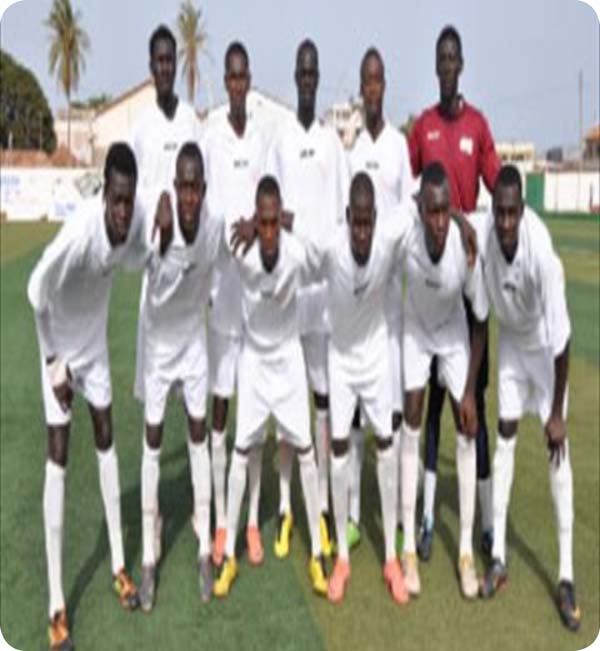 A first-half brace from striker Madi Fatty was enough to earn Real De Banjul FC a 2-1 win over Gambia Ports Authority FC in their opening game of the Gambia Football Federation (GFF) first division league encounter played at the Serrekunda East Mini Stadium on Saturday.
The former Serrekunda United striker gave the city boys the lead from a superb half volley in the 44th minute of the game and sealed the victory two minutes later from a sensible finish to ensure substitute Muhammed Kaba's 54th-minute goal only proved as consolation for the ferry boys.
 Speaking to reporters shortly after the game, Baboucarr Coker, Real De Banjul assistant coach expressed delight at collecting the maximum points in their opening game of the season.
He said they fought to win the league last season but unfortunately ended up finishing a single point behind eventual winners Steve Biko FC.
This season their target is to take team by team and see what will happen at the end of the season, he says.
Nothing was lacking in his side despite being under pressure in the dying minutes of the game, he said, adding: "This is football; we cannot pressure them for 90 minutes; sometimes they have to also pressure us."
With the performance against Gambia Ports Authority they can win the title, he remarked, saying Real De Banjul is a big club and every season they go for the title.
Asked if there was any pressure on their technical bench meeting the head coach of the team, he said: "We did not play against Alagie Sarr but against Gambia Ports Authority, and there was no pressure on our bench."
Alagie Sarr, Gambia Ports Authority head coach, said the game was well-contested despite his side's loosing.
They have been preparing for the league for so long, he said, but was quick to add that, he is building a team.
He said he has a lot of work to do after taking over the team this season.
His team played extremely well against Real De Banjul apart from the two mistakes done by their defenders towards the end of the break which resulted to two 'bad goals' they conceded, he stated.
"During the break we rectified our problems, and looking at the second period of the game it was far different from the first half," he observed, saying: "The team was a little bit panic because I was with Real De Banjul and then moved to GPA this season."
"It was pressure on the players but not for me, because to me moving from Real De Banjul to GPA, we should not see each other as enemies," he remarked further.
They have to take the defeat in good faith and prepare for their next game, he also said, noting that the players had pressure because they wanted to please him by winning the game against his former club.
"I told them they should not be under any pressure because I had no problem with Real De Banjul for my departure," head coach Sarr said.
"Adama Cham is a new fine player, we used him as a substitute today so that if we have any problem he comes in to address it for us and he did exactly that when he came in," he said of the player who was instrumental throughout the game after being introduced in the second half.
He said the pitch also had an impact on them partly responsible for their defeat as they have been training on an artificial turf for the past four to five months, but was quick to add that, no matter what they have a lot of games to play on the grass pitch and need to adopt quickly.
 They will prepare to collect the three points against Gamtel in their next game since they have now seen the pitch, he pointed out, saying: "It is also part of their plans to win the league despite building a team.
"No team will compete in the league and say it does not want to win it, maybe only the teams coming from the second division will say they want to maintain themselves," he stated further, saying: "We are going for the league and on the other side build a team"
He have changed a lot of players in the team and injected a lot of new young players, he further said, adding that there are a certain number of points they target for the first round and have discussed it with the players but would not disclose it for now.
Read Other Articles In Article (Archive)