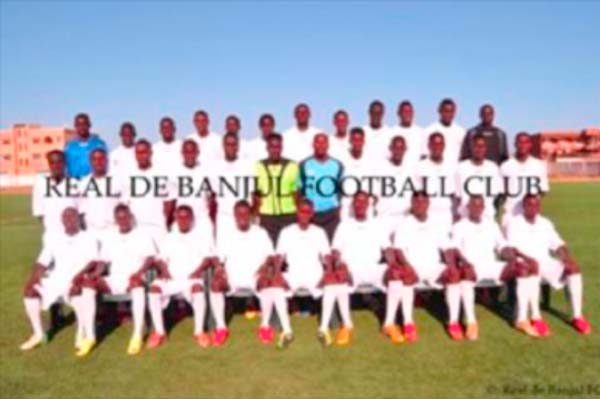 Real De Banjul FC were on Saturday 29 October 2016 held to a goalless draw by Ongor FC of Senegal in a nail-biting encounter played at the Independence Stadium in Bakau.

The game was part of activities marking the 50-year celebration of the club.
Earlier on the same day and venue, Sukuta FC beat Serrekunda FC 2-nil while Wallidan FC lost to Guediawaye FC by the same score-line.
In the opening game of the tournament, Real De Banjul Academy defeated Sanchaba Sulay Jobe Academy by the same margin.
Real De Banjul FC vice president Bakary Jammeh, speaking to reporters, thanked everyone on behalf of the Real De Banjul family.
He said the preparation leading to the day was difficult but they were committed to making an impact.
They wanted to "take Gambian football to the world and bring the world to Gambian football", he said, adding that they had "succeeded greatly" in doing that.
"We are grateful to our sponsors, the government, GFF, the teams that came from other countries and everyone," he said.
Real De Banjul is not only an organisation but an institution, he remarked.
He observed that some club members have passed away but they would thank Allah that a good number are still alive and around.
He said they strike to be the best in whatever they do, adding that they are in the tournament to win it; although that is not the objective of the tournament.
"The objective is to bring teams together and learn from each other as well as build bridges," he said further, adding that they hope some talents would shine during the tournament to catch the eyes of scouts to move abroad, which will be a step ahead in "the idea of exposing our youths to top leagues to further strengthen Gambian football".
He remarked that their ambition is to professionalize Real De Banjul Football Club for it to stand shoulder to shoulder with the big clubs of Africa.
"Because if clubs are good the national team is strong, which is why we want to make our clubs strong," he said.
They would also like to collaborate with other clubs to make them strong for the national team to be stronger and be able to stand any challenge in Africa and the world, Mr Jammeh said.
Concluding, he said they wanted to win the league this year and go further afield in Africa to fight.
Ebou Faye, chairman of the organising committee for the Real @ 50, described the celebration as a landmark event in Gambian football, for a club to celebrate 50 years in such a fashion.
It shows they have built a good foundation and worked hard over the years, he added.
Real De Banjul have produced so many quality players, he said, adding that they have also set standards that all clubs should emulate and keep the fight for the next generation to maintain development, good football and professionalism.
"We can only move forward if our clubs are professionalize," Faye concluded.
Read Other Articles In Article (Archive)