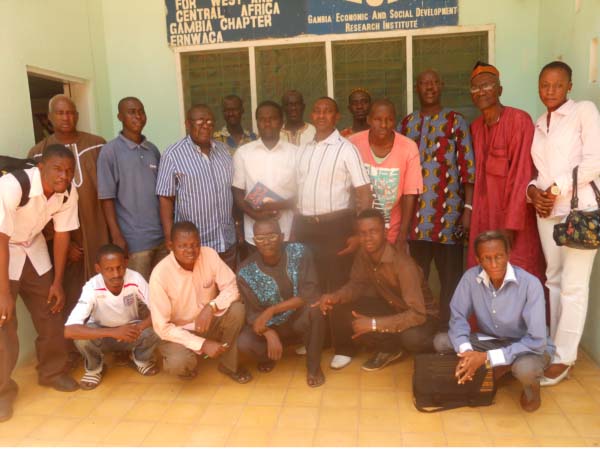 "The rate of teacher attrition in upper basic schools in The Gambia is accelerating annually," according to the findings of the 2013/2014 research grant project conducted by Paul Gomez, a final year student at the School of Education, University of The Gambia.
The extensive research findings were presented at a capacity-building workshop held on Saturday at the ERNWACA Cafe in Bakau.
The research was done thanks to a three million CFA franc grant approved by the ERNWACA regional scientific committee to support the project.
In the report presented by Mr Gomez, the principal researcher of the project, it was stated that "there have never been enough teachers" to meet the demands of the ever increasing number of students in The Gambia.
"Research has shown with empirical evidence that teacher attrition at the secondary level is impacting negatively on students' performance, thus jeopardizing the quality of education," the report stated.
"Teacher quality co-relates to students' performance, hence well trained teachers are able to effectively and efficiently deliver than the untrained teachers."
According to the report, teachers are always leaving the profession for one reason or the other, especially in both public and grant-aided secondary schools, for greener pastures, thereby rendering the efforts of the Ministry of Education to address the need for teachers "inadequate".
During the research, four regional directors were interviewed on why teachers leave the profession, Mr Gomez said, adding that one of them stated that "teachers opt to develop themselves academically and or professionally within The Gambia or abroad and upon completion will never return to the profession."
"Some have left because of meagre salaries and poor working conditions, and now work in banks or other institutions," Mr Gomez reported.
He said some other people in the education sector, he interviewed, also touched on some of the numerous efforts being made by the Ministry of Basic and Secondary Education to curtail the "ever increasing number of teachers leaving" the profession.
"The introduction of hardship and retention allowances is an incentive created by MoBSE to help retain teachers; scholarship packages also help to retain teachers who are aspiring to further their education, and the construction of staff quarters or other housing schemes which help teachers cut down costs on housing."
These efforts, however, "have not been successful", as the findings show that an increasing number of teachers continue to leave the teaching field.
The Ministry of Basic and Secondary Education has also been called upon by the researchers to do more to stop the trend of teacher attrition, and secure the future of the nation's education system.
The workshop also discussed the quality of education in The Gambia, using Grade 9 (GABECE) and GTTI as a case study, in a presentation delivered by Dr Ebrima Drammeh Khangi, one of the researchers of the project.
Read Other Articles In Article (Archive)