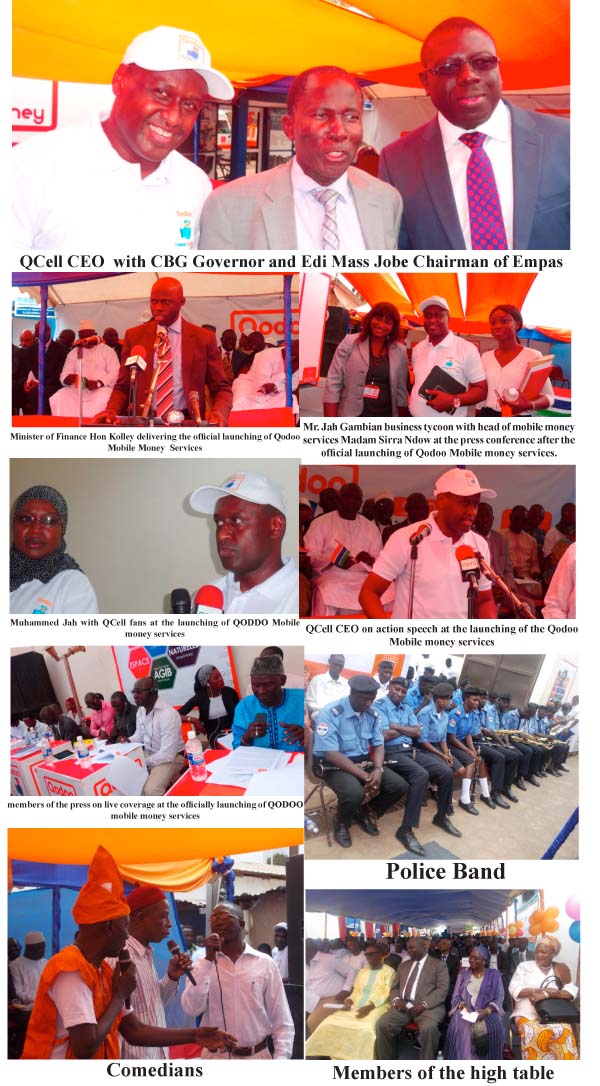 Qgroup, one of The Gambia's leading business conglomerates, yesterday witnessed the officially launching of a "New Baby products" called "QOdoo Mobile Money" Services, SunuKalpeh" at a glitzy ceremony at the QCell headquarters along Kairaba Avenue.
Qcell is the first GSM Company to launched a complete mobile money service in partnership with major financial institutions in The Gambia. Qodoo mobile money gives QCell subscribers the flexibility to send and receive money, buy Qcell credit, buy qpower, pay bills, and much more with your mobile phone. QCELL as pioneers' information technology and product innovation have worked tirelessly on this product in order to give our customers financial flexibility.
Speaking at the event attended by cabinet members, parliamentarians, top businessmen and a cross-section of distinguished Gambians, Mr Muhammed Jah, the CEO of QGroup described 'Qodoo, SunuKalpeh' as "one of the best products" his group has ever developed and which will be "a radical game changer" and transform banking and telecommunications in The Gambia.
He explained: "We believe that as the pioneers of mobile wallet in The Gambia, this product is going to be a significant game-changer in our beloved country. Qodoo, SunuKalpeh is creating a merger between mobile telecommunication technology and financial services. It is going to use the power of the mobile technology to drive financial services to the doorsteps of every Gambian no matter where you live, especially the micro-economic sector of our economy who have largely been deprived or excluded in the formal financial sector even though informally.
"You will start seeing Qodoo, SunuKalpeh changing our economy positively by including the entire citizenry in a semi-formal and formal way to join the bandwagon for positive development which His Excellency the President has always advocated for. Today you will start seeing Qodoo, SunuKalpeh transforming the Gambian economy from a cash-based economy to a cashless economy. Today, less than 30% of the Gambian population have bank accounts and 70% of them are unbanked. This means that 70% of our population are not tapping the benefits that come with financial inclusion and as such means there is a slower rate of bridging the gap between the rich and poor. We believe that as from today, QodooSunuKalpeh has given those 70% of the population the platform and the opportunity to be included in the formal financial sectors and rip the benefits it comes with so that as a nation we can move together as a block to attain economic superpower as the President always advocates. We cannot reach economic superpower status if the majority of our people are excluded from the financial sector. QodooSunuKalpeh is coming to help us do just that.
According to Mr.Jah QODOO is a very secure, reliable and fast service which will give you instant access to financial services at a  very low cost using your QCELL mobile. Getting a qodoo Account is very, very simple. You can have a qodoo distributors or agents throughout the country, free of any of our Qodoo distributors of agents throughout the country, free of charge. You do not pay anything .it is completely free and you boast of being part of the formal Gambian financial system. All you need is a qcell line and acceptable pgoto ID.
"With your QodooSunuKalpeh account, you can deposit and send money for free anywhere and anytime in The Gambia from Banjul to Koina, buy QCell credit for yourself or your loved ones anywhere and anytime, buy Qpower anywhere and anytime, cash out money anywhere and anytime at the lowest possible cost, make a payment to your staff anywhere and anytime without having to move from your home or office and they can receive their payment on time without having to travel long distances, pay your taxi fares anywhere and anytime without having the common problem of "I have no change", make payments for your bills and goods, pay your post-paid bill, buy petrol, buy groceries from supermarkets or street corner Fula shops or buy your onions and fish from your market vendor, anywhere and anytime. As long as you have a Qodoo account, you will be able to buy and sell anywhere and anytime," CEO Jah explained.
Mr. Jah also seized the opportunity to thank all the stakeholders of this very important industry starting from the government of The Gambia through our leader H.E  The president of the Gambia, through our minister of information, communication and Insfrastructure and his permanent secretary  for creating the enabling environment and giving young Gambians like us the opportunity to contribute our quota to the development of the country, The Gambia.  He also thanked  our regulators, the central Bank of The Gambia and PURA and their entire staff for the greats job they are doing to create a WIN-WIN situation for both busineses and consumers. Thanks goes to KMC for hosting us peacefully and to my staff for their dedication and commitment to the vision of building and maintaining the best quality and cheapest products and services  in The Gambia. Mr. Jah further appealed to all Gambians and the Gambian public and consumers to believe in us , to believe in Gambian products and services and we promise you that we will never let you down. We are Gambian business have proven ourselves over the years, yes, all what we need from you is the belief and continuous support to enable us reach the economic supper power the president have been advocating. Without us believing in ourselves we will never achieve our dreams.
In his statement, the Minister of Information and Communication Infrastructure, represented by the minister of finance and Economic Affair  Hon. Abdou Kolley ,said Qodoo Mobile Money, SunuKalpeh is another value-added service that will drive social and economic transformation in The Gambia.
He said since its inception in 2009 as the first GSM company to offer a 3G mobile network in this country, QCell has remained at the forefront of the telecommunications revolution, setting trends and widening access, hence contributing immensely to aligning our market to global standards. 
"The national and international awards and recognitions QCell has received over the years serve as a testament. Today's launch of QCell's Qodoo Mobile Money breaks yet another new ground in being one of the first GSM company to bring this comprehensive, life-changing service to the people of this country. The Government welcomes such innovation for the benefits it will bring to its people and for the fact that it will allow the country to improve its competitiveness both regionally and internationally.
"This historic offering from QCell is an opportunity to ensure digital inclusion, bridge the digital divide in our country, and put at our disposal the essential modern tools necessary to serve a more prosperous humanity and make our country, our world a better place," Minister Bojang said.
He thanked QCell for its "vibrant pioneering spirit and continued and consistent commitment to leap frogging this country's development not only through investing in innovative technologies but also in its commitment to supporting other key national development areas namely the education and health sectors."
He said the Government under the visionary leadership of His Excellency Sheikh Professor Alhaji Dr.Yahya AJJ Jammeh, has realised the crucial and pivotal role that ICTs play to fuel economic growth, especially in wealth creation, employment generation and poverty reduction and in that regard, the Government is reiterating its commitment to creating and maintaining the enabling environment for such investment and innovation.
Qgroup is one of the biggest investors and biggest employers in The Gambia. It includes QuantumNet Institute of Technology, QuantumNET Company, QuantumNET Espace Motors, Arab Gambian Islamic Bank, Naturelle mineral water and QCell SUNU BUSS amongst others.
For her part, Sirra Ndow Head of mobile Money ,said according to the GSMA , 93 countries have mobile money services in the world with a total of 271 services providers that have registered 411 million Accounts, each provider processing an average of 33 milion transaction a day as of December 2015. We are gathered here today to add The Gambia to this staggering landscape created by this transformative industry called mobile money which is just 8 years old. 
Read Other Articles In Article (Archive)