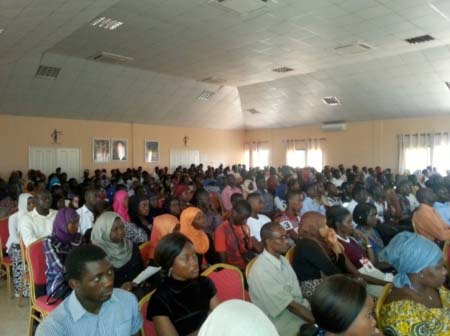 Muhammed Jah, chief executive officer of QCell, on Tuesday held an inspirational forum on entrepreneurship for students of the University of The Gambia at the law faculty in Kanifing.
Mr Jah, arguably one of the most successful businessmen in The Gambia, said there is a need for young entrepreneurs to start evolving in the country.
He called on the university students to venture into entrepreneurship to become job-creators, not seekers but urged them to know the society's needs before venturing into any business.
"You cannot do business in a society that you don't understand; you need to find a way to know what your society needs because such knowledge is key for success in business," he emphasised.
The QCell CEO said it was based on such knowledge that QCell introduced QPower for people to have access to buy cash power 24 hours with a QCell line.It used to be difficult for many Gambian households to have cash power after 10pm.
Furthermore, the business tycoon urged potential entrepreneurs to be mindful of their obligations towards the government, society, staff and family because that helps in building a good network which is "fundamental for a successful business".
Mr Jah urged the students to choose the right partners and have a good rapport with them as that also is essential in business success.
"Avoid taking too much loans to start business because it will make you heavily indebted as most of the loans come with high interest rate," he advised.
He also advised them to be compliant with the country's laws and avoid tax evasion, adding that his company is one of the most compliant tax payers in The Gambia.
The QCell CEO further told the university students to be prepared to take risk as it is one of the principles of a successful business.
"Never give up so early especially when the business is not working," he said, as he admonished the students to be patient as "business is a gradual process".
"Let the hope of your dream of success in business keeps you going; have big dreams and follow your dreams with actions," he added.
The business magnate called on the students to take their education seriously as one cannot do a very successful business without certain amount of knowledge. 
Read Other Articles In Article (Archive)