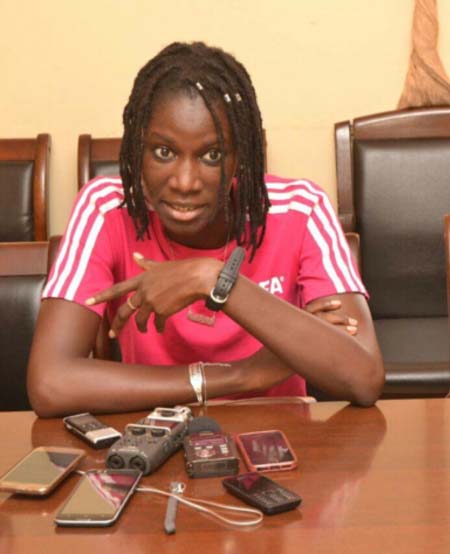 One of Gambia's promising Female footballers and a FIFA LYG Girls Ambassador Ajara Samba has called on the Football Federation to reconsider them for the most identifiable face in women's football as it sinks further down below.

Nineteen-year-old Ajara, who works with the Ministry of Health and Social Welfare as a procurement clerk and a player with 2nd Division club Red Scorpions, said the Football Federation of Lamin Kaba Bajo's executive is not giving considerable concentration to Women's Football and its development thus "not treating them rightfully".
"Much concentration is not given us (Women's Footballers) by the GFF," she complained.
Gambia's first and memorable engagement in a major female football tournament was in the third edition of the 2012 FIFA U-17 Women's World Cup held in Azerbaijan from 22 September to 13 October; won by France, while The Gambia exited the tournament in the group stage with a screaming record of 26 goals conceded.
Ajara further said: "Let them (GFF) not be carried away by the 2012 Azerbaijan tournament results because if they do, it will only discourage the future of young girls trying their luck in the game.
"We deserve to be treated right and be supported equally like the male players in order to achieve our goals as young female footballers aspiring to be professionals."
Ajara Samba became a FIFA Live Your Goal Initiative Ambassador in 2015 and she is aspiring to represent The Gambia at a senior international competition.
"I think the Football Federation should do something to register us in future CAF Women's Football tournaments as soon as possible because the pool of female players is growing and this should be nurtured and highly motivated by helping us compete in a major competition, at least," she implores.
Over the years, Women's Football in The Gambia has not been given its respective due thus unfairly treated, unlike the men's game where more focus is largely bestowed to modern men's football, leaving considerable conditions unfavourable and meddling with the progress of the female game in the country.
If handed the rarest of opportunities to make a change? She said: "I would try my utmost best to develop a formula, which is the S+ME=IFS+ICA (success plus Media exposure, equals to the Increase in Fan support, plus increase in commercial attractiveness), with that formula I guess working with the media we'll make an everlasting positive change on issues persistently confronting women's football."
The GFF, in its ranks, has always blown its trumpet to supporting and developing female football, outlining it as one of its top agenda in the development of football in The Gambia.
But since the GFF's come into office in 2014, nothing much has been there to see in optimism for the future of women's football aside from the Live Your Goals Girls campaign by FIFA for greater young girls' participation in the sport, as the female sport is on the lost veranda.
Since 2008, a requirement has been in place for at least 15% of FAP funds to be used for women's football by Fifa to allocate the Federation a good portion of its annual Financial Annual Programme fund of more than D11 million.
Read Other Articles In Article (Archive)