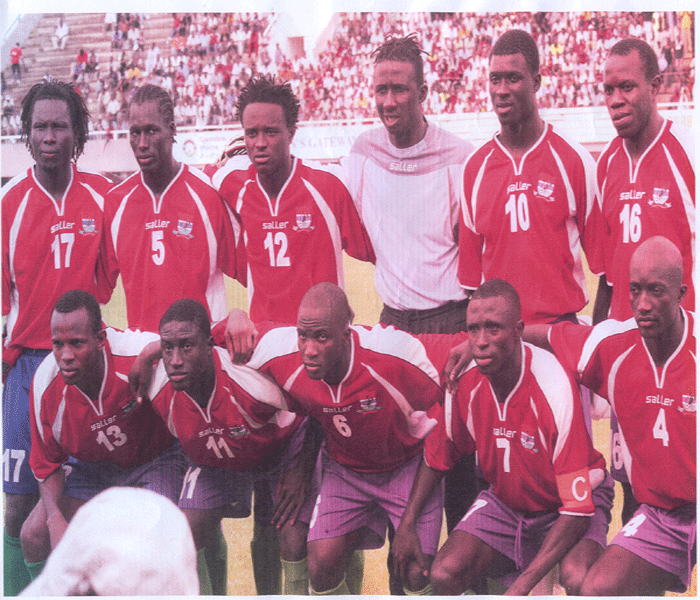 The Gambia are the biggest gainers in the Fifa world rankings for Africa jumping from 25th to 16th on the African list in the latest rankings for April 2008.
They also made a significant improvement on the global stage by moving from 102nd in the Fifa rankings published in February to 83rd position.
The Gambia scored 328 points together with Qatar who are 82nd on the list.
Ghana have maintained their position at the top of Fifa's Africa rankings, for the third month in a row.  They remain at 14th in the world rankings.
Cameroon, Ivory Coast, Egypt and Nigeria wrap up the top five.
Meanwhile Algeria continue their plunge down the rankings.
The double World Cup finalists are now ranked the 26th best team on the continent.
Argentina have maintained their position at the top of the world rankings.
Fifa say their rankings are not a reflection of a team's present performance, but a reflection of performance over the past four years, and are derived using a weighting system.
Fifa rankings for Africa on 13th February. World rankings shown in brackets.
1. Ghana (14)
2. Cameroon (17)
3. Ivory Coast (22)
4. Egypt (30)
5. Nigeria (39)
6. Guinea (41)
7. Mali (44)
8. Senegal (45)
9. Morocco (46)
10. Tunisia (53)
11. Angola (65)
12. Zambia (68)
13. South Africa (69)
14. Equatorial Guinea (72)
15. Mozambique (78)
16. Gambia (83)
17. DR Congo (85)
18. Togo (87)
19. Ethiopia (88)
20. Libya (90)
21. Uganda (91)
22. Congo (92)
23. Tanzania (94)
24. Zimbabwe (98)
25. Gabon (98)
26. Algeria (101)
27. Benin (103)
28. Sudan (107)
29. Cape Verde Islands (107)
30. Burkina Faso (109)
31. Rwanda (111)
32. Botswana (113)
33. Burundi (118)
34. Kenya (120)
35. Mauritania (123)
36. Namibia (127)
37. Eritrea (133)
38. Malawi (136)
39. Liberia (138)
40. Chad (145)
41. Madagascar (151)
42. Swaziland (156)
43. Niger (158)
44. Sierra Leone (162)
45. Lesotho (163)
46. Seychelles (172)
47. Mauritius (174)
48. Guinea-Bissau (176)
49. Djibouti (179)
50. Comoros (195)
51. Somalia (197)
52. Central African Republic (198)
Read Other Articles In Article (Archive)