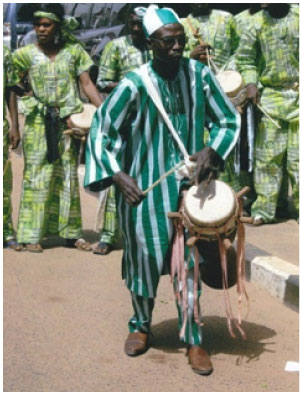 Koto  Biram Ngum, a Gambian born on the 10/05/1947, hails from the traditional
Serer and Mandinka ethnic groups of famed griots in The Gambia, West Africa.
He is the founder and Artistic Director of the acclaimed Baatu Askan-wi Cultural, Theatre and Dance Troupe in The Gambia, Thus Baatu Askan wi, literally translated means "voice of the people/tribes or nations", was founded or established in October 1990.
Koto Biram Ngum  a master drummer, dancer, choreographer, dramatist and storyteller in his own right, has to his credit performances at the national, regional and international arenas.
He learnt his drumming and dance skills from the legendary master drummer, Mam Samba Nying.
Thus Baauti Askan wi's dance repertoire, developed, modified and popularized by Koto Ngum touches on Gambian folklore and on contemporary issues. The group specializes in drama, arts, music, dance and songs depicting the rich cultural heritage of The Gambia in particular and Africa in general.
Baatu Askan Wi has performed or participated at national, regional, sub-regional, and international folklore events, and cultural festivals.
Read Other Articles In Article (Archive)