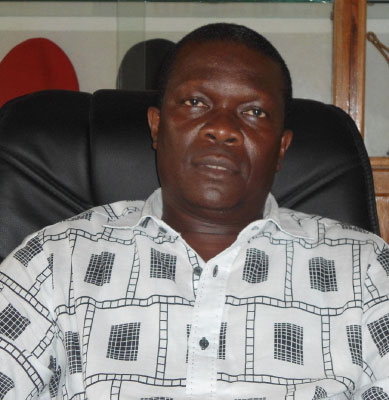 Malick Mendy, one of the leading professional tailors in the country, has told The Point that he is eying the international market for his Gambian made fashion dress, saying he has already met the international standard set for professional tailors.
Mendy, proprietor of Malick Mendy Tailoring, is among the few Gambian professional tailors who have carved a niche for themselves by meeting international standard and professionalism.
Speaking to this reporter at his newly built tailoring academy located opposite Glory Baptist School along Bartil Harding Highway, Mendy, a tailor of more than 35-year experience in the field, said: "I am a born tailor, and the son of Ousainou Mendy, a well respected Gambian tailor who did tailoring for most part of his productive life; so I have inherited this trade from my dad, since I was a teenager. I started sewing since I was 12 years."
Mendy is a specialist in sewing men's suits; ladies' suits; western style dress; interior decorations; coating; school barges; security uniforms and barges as well as promotional items.
The Gambian star tailor, who displays extraordinary skills and talent behind the sewing machine, said he is working towards the country's development blueprint and Vision 2020.  "I love what I am doing," he added.
He said the government has created an enabling environment for them and what is left is to make the best use of the opportunity.
Mendy, who is currently employing more than 40 Gambian youths, is also optimistic of expanding his business to cater for the growing demand of the unemployed youth, which is one of his targets.
He thanks the Trade ministry and United States Embassy in Banjul for coming to his aid during his difficult times, adding that before his move to his new office, most of his tailoring shops were scattered everywhere.  "But with the acquisition of a land through the help of the ministry I was able to bring all my shops under one roof," he said.
Mendy said 85% of his workforce are Gambian youths but the unseriousness and lackadaisical attitude towards the trade of some of the youths frustrates him so much at times, despite all the opportunities he has put at their disposal.
Mendy, who has won many local contracts from the government and the private sector for preparing security badges, logos, ranks, caps and promotional items, told this reporter that he recently returned from Las Vegas in the US where he promoted Gambian tailoring together with his colleagues.
He is also plans to employ  more Gambian youths in the near future, adding that he is currently working towards preparing some Gambian-made dress to send to the US or Europe.
"I want to see people from the outside world coming to The Gambia to buy Gambian made textile products," he said. "I am working on that through the help of the US embassy and the Trade ministry. We are already international but what we are exporting is limited; our aim is to export more and create more employment opportunities."
He added: "My aim is to see that people come from the outside world to buy Gambian made goods. We have professional tailors and firms here in The Gambia, such as Sawallou Couture; they are doing well in the industry."
Read Other Articles In Article (Archive)