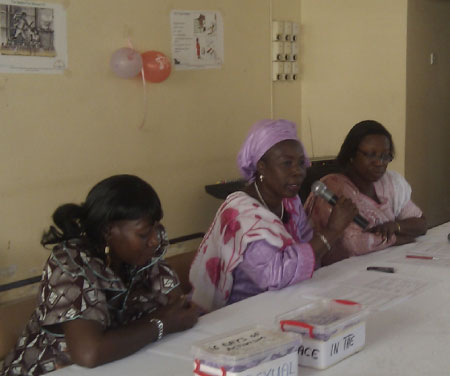 PRO-HOPE International The Gambia (PHIN Gambia), on Thursday organised a forum at Caritas Hall in Kanifing to reaffirm their commitment, solidarity and passion in the fight and eradication of all forms of gender based violence.
The forum attended by various women groups, civil society organizations among others, formed part of PHIN Gambia's activities in commemorating the 16 days of activism on gender based violence, funded by African Centre for Democracy and Human Rights Studies.
Speaking at the event, Matilda Johnson, board chairperson of PHIN Gambia, said The Gambia has ratified regional and international legal instruments such as the convention on the elimination of all forms of discrimination against women, African charter on the rights and welfare of the child all of which guarantee the rights and dignity of women and girls.
According to her, despite all the commitment of the government in enacting these laws against gender based violence and the efforts of development partners in their interpretation and dissemination, women and girls continue to be victims of gender-based violence which has devastating effects on their health, self-esteem and mental status.
"Today's press conference is also another activity to showcase PHIN Gambia's commitment to the fight for the eradication of all forms of gender based violence," said the board chairperson.
He also said they have been fully involved across the country raising public awareness among others that gender-based violence should not be tolerated but reported.
She called for concerted effort from all and sundry on the need to work together in addressing the contributing factors that sustain and nature gender based violence in the society, while commending African Centre for Democracy and Human Rights Studies for supporting their programme.
For her part, Isatou Dibba, technical adviser, PHIN Gambia, quoted the former UN secretary general Kofi Annan that "gender is more than a goal in itself. It is a precondition for meeting the challenge of reducing poverty, promoting sustainable development and building good governance".
She adduced that PHIN Gambia is a representation of the direction the world is taking towards the elimination of all forms of sexual and gender-based violence against women.
She noted series of activities they have embarked on since their establishment in 2005 ranging from gender sensitivity trainings and advocacy, to training on sexual and reproductive health for adolescent youths, as well as establishment of community based counseling support structures for survivors of violence.
She noted that the way forward for them is to have a database of different forms of domestic violence occurring as well as develop culturally sensitive structure and mechanism to effectively address issues of domestic violence.
Speaking earlier, Michelle Jawo Demba, programme coordinator of PHIN Gambia, gave a brief history of PHIN Gambia, noting that their mission is to promote gender sensitivity and sexual reproductive health and right of individuals and groups in The Gambia, enabling them to find fulfillment in life.
Meanwhile, at the end of the event, signatories collected from individuals from across the country by the PHIN advisory committee groups for the development of Domestic Violence Bill were handed over to the Women's Bureau.
Read Other Articles In Article (Archive)