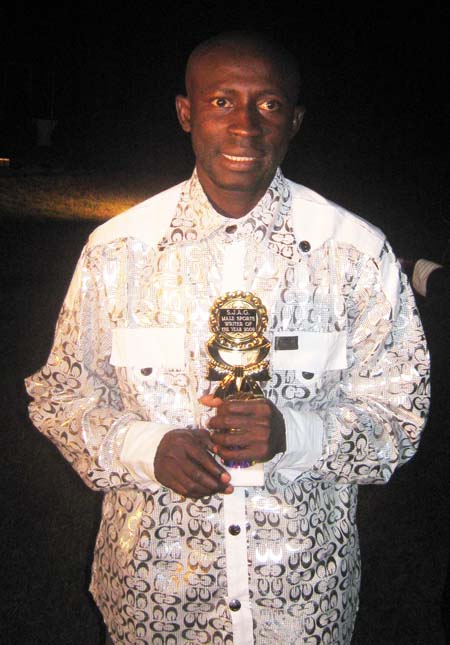 Pointsports anchor Lamin Drammeh, who also writes for www.gamsports.com has been awarded by the  Sports Journalists Association of the Gambia as the 2009 most outstanding male sports journalist at the annual award ceremony, held at the Independence Stadium Friendship Hostel in Bakau on Friday.
The Gamban pen-pusher who recently completed a high level AFP-FIFA media professional training course in Dakar, Senegal (was pitted in a tough group which comprises fellow sports reporters, such as Amadou Wuyeh Manga, the head of sports of the Unique FM radio, Modou S. Joof and Sang Mendy, the sports editor of Today Newspaper).
Despite all the challenges, the deputy head of sports of the country's most authoritative newspaper was able to prove his worth by edging out his colleagues, as he claimed the most important award of his life.
The elated Drammeh, who joined the paper on 3rd March 2009, has since managed to establish himself as one of the finest sports journalists in the country, he told Pointsport a few minutes after securing the top award in the annals of the ceremony.
"The day is a special day for me, for the paper, for my friends, as well as my parents including my entire family members, because it is a fantastic recognition by my colleagues who have recognised my efforts, thanks to the efforts and support of the entire management and staff of The Point Newspaper and my humble boss Sainabou Kujabi, given the fact that without their support and encouragement, I wouldn't be able to achieve this success," the joyous former GRTS reporter told Pointsport in an interview.
Drammeh, whose face was beam with joy during this interview at the Friendship Hostel on Friday added, "when my profile was read in front of my family members, including my two sisters Yamusu Conateh and Nanding Drammeh, I felt extremely delighted and the feeling was absolutely spectacular."
"It is a major honour for me and I am very proud to have won such a high profile award.
I will continue to do my best to encourage the young ones who are also doing great in the profession," Drammeh stated.
Drammeh 27 joined The Point Newspaper from the Gambia Radio and Television Services (GRTS), and has since managed to make a name for himself, both locally and internationally, despite spending only 2 years in the field. Drammeh has received encouragement from his boss Sainabou Kujabi, who has injected the spirit of confidence, motivation and determination in him to excel at the highest level.
Read Other Articles In Article (Archive)