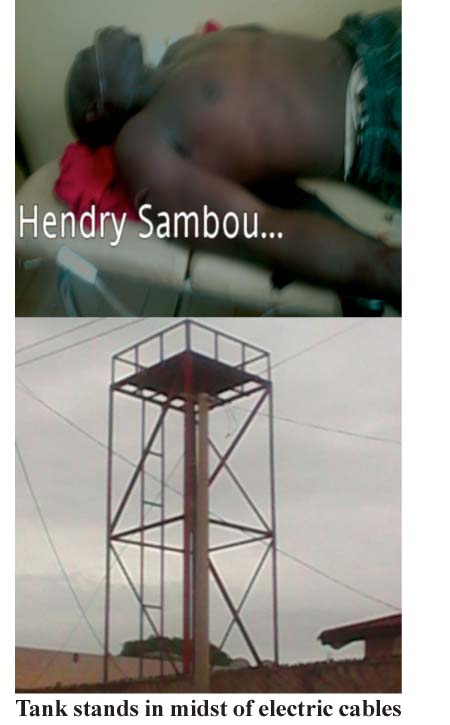 Henry Sambou, 29, a plumber residing at Churchill's Town, was still in a critical condition on Sunday evening, after he was shocked by electricity while working on a water tank at a compound in his neighbourhood on Saturday.
He is currently at the Edward Francis Small Teaching Hospital in Banjul receiving treatment.He is said to be responding to medication.
The plumber was referred to the Banjul hospital from the Serrekunda General Hospital in Kanifing, where he was first rushed after being rescued from the electric cable.
Nuha Badjie, an uncle to Henry Sambou, said the plumber was working on a reserve water tank in a compound at Churchill's Town, which stands close to a high tension cable.
Sambou had brought down the tank, repaired it and then lifted it to put it back on the stand.
"He [Sambou] placed the tank on the stand and was trying to regularise it, and in that process got into contact with the electric cable near the tank," said Badjie.
He added that Sambou struggled to remove the electric cable, and when people noticed this called NAWEC and the Fire and Rescue Service.
Personnel of the Fire and Rescue Service arrived at the scene first, but could not use their steel ladder to climb to remove Sambou.They contacted NAWEC to cut electricity supply to that area.
Meanwhile boys around the area got impatient and started stoning the Fir and Rescue Service officers, who did not give up, but waited for NAWEC cut power supply.
When this happened, before the officers could climb up their ladder, young men present climbed it and brought down Sambou.
The plumber was in a coma for some hours, when he was taken to the Serrekunda hospital, where after first-aid he started to breathe and was then referred him to the country' s major referral hospital in Banjul.
Essa Gibba, the Fire Service driver at the scene of the incident, said they were at their office when a taxi driver came to inform them and they immediately rushed to the scene.
"When we arrived, since it had to do with electricity, we first called NAWEC to make sure that they cut off the power supply in the area, to enable us do our work effectively and professionally," he said.
"While we were calling NAWEC and offloading our ladder, the onlookers and the people in the area grew impatient and started beating our truck and throwing stones at us, thereby obstructing our work."
Meanwhile, this reporter visited the EFSTH in Banjul to see the state of the young man, who was found sleeping at the Emergency and Accidents ward.
His neck was swollen, and feet and other parts of the body which got injured were bandaged.
His family members and friends said they are praying for his full recovery.
Read Other Articles In Article (Archive)