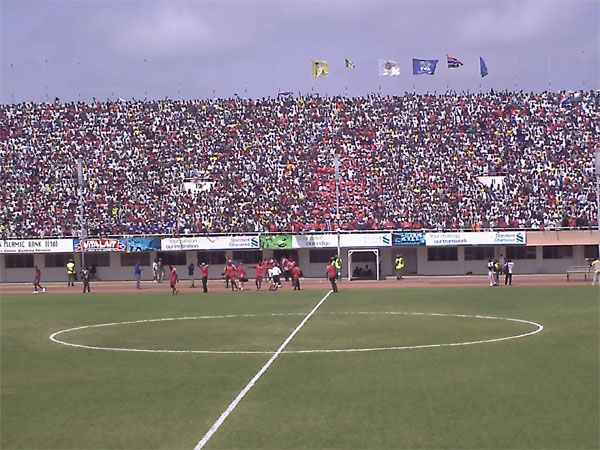 It was very sad to see a national team playing again with in empty Stadium on Sunday during the brilliant performance from our darling U17 team against the Leone Stars of Sierra Leone.  But the main question is what is stopping people to come out and giving support to the boys? The players need the support of the public and private sector.
Pointsports went around to seek the views of people on this matter.
Speaking to one Nigerian, Stanley, who is a football fan he said, "Gambia is the only country where I see football tickets cheap and still when their national team is playing you see empty stadium." He said, "the only way that Gambia can make a name in the international world when the private sector supports to the players. This will motivate and give them courage. It is very simple, all they need to do is to buy tickets during international matches and give them to their staff to go and support. It is also publicity for them," he explained.
In his reaction Momodou Bah, a Senegalese man residing in The Gambia for more than 23 years, told Pointsports that, "The Gambia has a good, very young team and I believe that with the help of the public and the private sector we will see The Gambia not only in the African Cup of Nations but the World cup as well," he explained.
It will be recalled that in an interview with Pointsports the Senegalese legend Juan Franco Bocanday said that The Gambia have a very young team as he used to watch them playing during the Youth tournaments. "They have good and intelligent players and all that they need is the support from the general public and the private sector," he said. That's the voice of the Senegalese legend so what is stopping the general public and the private sector from coming out?
The Gambia will be hosting Liberia in the joint World and African Cup on Saturday 6th of September 2008. We hope and urge the private sector to do the same as they used to do before during the U-17 tournament. At that time they gave the fans with T-shirts and drums to see who is the best supporting company. They should restart this excellent practice for the upcoming games too. The general public should also come out in force. We hope that we will see the same on Saturday and always.
Read Other Articles In Article (Archive)