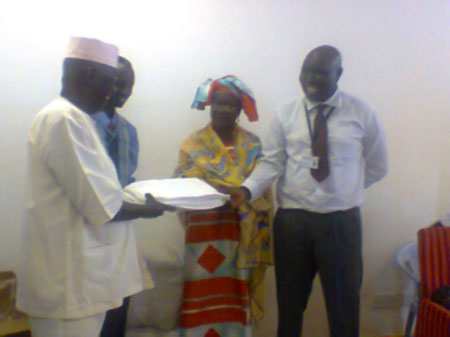 Pipeline Mosque Foundation on Wednesday donated 100 bed sheets and 10 bails of bed nets to Serrekunda Hospital at a ceremony held at the administration building of the hospital premises in Kanifing.
Speaking at the ceremony, Alhaji Ebou Dandeh-Njie, president of the foundation, said the donation is in the form of bed nets and bed sheets.
He said they were the Pipeline mosque committee but since there aim is not limited to Islam, they transformed the committee to a foundation and decided to apply professionalism.
He said they have a lot of committees but their social committee is highly relevant for such issues, saying this is just the beginning of their community work.
He said they intend to carry it forward to places such as Tanka Tanka Psychiatric Hospital and Mile 2, adding that people who are vulnerable need the support of their Islamic brothers and sisters.
He said they have generous sponsors who are behind them like Trust Bank, CRS, Comium and many others.
For her part, Dr Adama Demba, Director of Health Services, thanked the donors for the gesture, saying it was timely.
The health ministry and the Government of The Gambia cannot do it alone hence rely on people and groups like Pipeline Mosque Foundation, she says.
The health services director also said malaria is a major public health issue affecting mostly women and children, which they intend to tackle massively to prevent death caused by the fever.
The gifts are much valued, Dr Demba said, adding that they will be used for the intended purpose.
For his part, Baba Njie, CEO of Serrekunda Hospital, said the gifts will be used as desired, adding that the hospital is within catchment area which is fast growing.
He said all the departments in the hospital ranging from the theatre to other units, are operational.
They also have mortuary which the people can use instead of going to Banjul, he said but noted that they are resource constrained and need philanthropists to come to their aid.
Mr Njie reiterated his thanks and praises for the donors, saying the materials would go a long way in keeping their patients protected from malaria infection. 
Read Other Articles In Article (Archive)