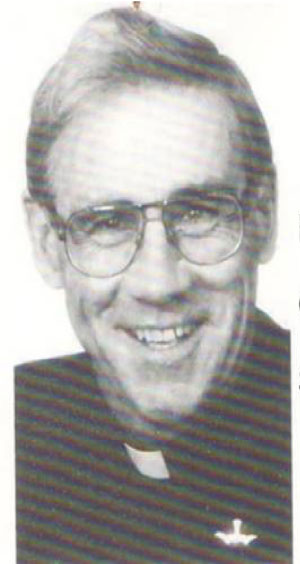 Welcome to another edition of Personality of the Week, the weekly column which profiles Gambians and non-Gambians alike whose contribution to the development of The Gambia should be celebrated.
In today's edition we bring you the profile of Father Joseph A Gough, a philanthropist, educationist par excellence and sports administrator extraordinaire, a man whose contribution to the development of this country has over the years been recognised.
Fr Joseph Gough was born in Kilkenny, Ireland in 1944 into a family of nine and grew up working in a farm until he was thirteen and this is where he developed his hard work ethic.
At the age of thirteen, he enrolled at Rockwell College for his secondary education. He joined the Congregation of Holy Ghost fathers in 1963 and proceeded to University College Dublin, where he received his BA Degree in English.
Following his matriculation from university College, he taught at Ireland's most prestigious High School, Black rock College for two years. He then returned to the Seminary for his formative years in 1968 and was ordained priest in 1971.
He was appointed to work in The Gambia by the late Bishop of Banjul Michael Maloney in 1972. His initial assignment was to open and be Director of St Michaels Seminary in Fajara.
Together with the late Bishop Pierre Sagnia, they recruited and trained the first batch of Gambian Seminarians amongst which emerged the first five Gambian priests for which Fr Gough is on the record saying, "This I regard as my spiritual legacy in The Gambia."
He served as Principal of St Augustine's High School from 1978 to 1983, and indeed his record still stands firm. His 1983 O Level results still stand as a record on its own, never bettered ever since. In the sports arena, everyone has an idea, simply put; he was second to none.
As recent as a few years ago, the Government of The Gambia conferred upon Fr Gough the insignia of the National Order of the Republic of The Gambia in recognition and appreciation of his valuable contribution to The Gambia and its people.
He was granted an honorary citizenship and appointed Ambassador at Large for The Gambia in 2009. Currently he runs the Gough Foundation in Banjul which has constructed a state of the earth sports Complex with an artificial turf to the tune of 1.5 million dollars at Manjai Kunda and currently working on putting a turf at St Augustine's High School, an institution he redefined in the 80's, a chronology of which is hereunder.
In 1972, Fr. Joseph A Gough joins the teaching staff and in the year 1978 Fr. Michael Cleary as Principal after 25 years on the Staff. Bishop M. J. Moloney appoints Fr. Joseph A. Gough Principal of St. Augustine's High School. During Fr. Joseph time as Principal of St. Augustine High school, the school song is composed and sung at assemblies and also the School becomes a 3-stream school as the enrolment grows and speech and Prize Giving Day was introduced and became a public event.
The Commercial subjects are introduced to the Curriculum. Fr. Michael Cleary Hall is completed and named after the former Principal. The first indoor basketball court is erected with glass backboards in the Hall.
In 1979, a Board of Governors was set up to help run St. Augustine's High School. Islamic Religious Education is introduced to the Curriculum as a subject for the Muslim Students. Metal Work, Woodwork, Shorthand and Typing are introduced to the Curriculum. Parent /Teacher meetings are set up on an annual basis. The House System in the School was established.
In 1980, St. Augustine's High School becomes a 6th Form School at last and offers Arts and the Commercial subjects.
In 1981, St. Augustine's becomes a 4-stream school and the enrolment grows to over 1000 pupils. A wall is built around the school for security. The new Agricultural Science classroom is built and officially opened.
In 1982, the Library is expanded and the steps behind the administration building and platform are completed for Assemblies.
In 1983, St. Augustine's achieves the best ever GCE WAEC O Level results in the country with 29 students getting a Division 1, and 1 student a Distinction. It is worth noting here that any school in the country has never bettered these results since.
In July 1983, Fr. Joseph A Gough leaves The Gambia. In September of the same year, Mr. Sam Njie is appointed first Gambian Principal of SAHS. It would be a remiss of me if I did not comment on the outstanding contribution made by Fr. Joseph A Gough CSSp during his tenure on the Staff of SAHS as a teacher, sportsman and above all as an outstanding Principal.
It is no reflection on any other missionary to say that it was he who brought St. Augustine's into the 20th Century and made it the outstanding school in the country. In fact, people talked about St. Augustine's as the Fr. Gough School. The Fr. Gough era at St. Augustine's was rightly referred to as the 'Glory Years'.
The list of achievements above shows the rapid expansion of SAHS while under his stewardship. St. Augustine's became a School of Excellence, which he was constantly trying to improve. He was never happy with second best and encouraged the students to develop all their talents and become the future leaders of the country.
He ran the school in a very organized and disciplined way and ensured that the students had the best of teachers wherever he could recruit them in the world. Many Gambian teachers were employed by him but not all of them wanted to stay in the classroom. "A school is as good as its Teaching Staff" was a constantly used phrase of his.
He was renowned for his hard work and 16-hour day's working in the school. Gough was particularly interested in the welfare of the students of SAHS and ensured the fees of needy students were paid for by scholarships if their families could not afford to do so.
"At books and play we win our way" he constantly reminded students at his weekly assemblies. The academic results of St. Augustine's improved dramatically each year under his principalship until the unprecedented historic making results of 1983, the year of his departure. These still stand as the best results ever of any school not just in The Gambia, but also on the West Coast of Africa.
Among the many outstanding students during the 'Gough Era' the following stand out: Bashiru Garba-Jahumpa, Joseph Henry Joof, Ousman Sanyang, Karamo Sonko, Lamin Barrow, Henry Paul 'Batchi' Baldeh, Yusupha Jow, Francis De Gaulle Njie, James Ndow, Emmanuel Ndow, Gabriel Ndow, Jamal Miknas, Kawsu Jawara, Fa Kebba Jawara, Almami Jawara, Caesar Kalil, Vincent Ndow, Benjamin Jammeh, Albet Valentine, Lawrence and Solomon Jarra, James Bahoum, Lamin Manjang, Momodou Jabang, Leonardo Leconte, William Jammeh, Leonardo & Vico Lamptey, Victor Agege, Serign Ceesay, Lucien Thomasi, Peter Ndow, Maba Kora, Lansana Fatty, Eliman Jagne, Alfusainey Camara, Moses Jallow, Bernard Mendy, Ousman Kebbeh Njie, Alpha Barry, James Freeman, Joseph Sambou, Habib Jeng, Malleh Wadda, Adama Samba, Samba Faal, Henry D. R. Carroll, Hassan Cham, Alieu Ceesay, Mambury Njie, Mary Mendy, Hawa Ceesay, Eleanor Cole, Salimata Touray, Rolf and Carl Christensen, Ebrima Jahumpa. There are numerous others whose names don't readily come to mind now.
Fr. Joe Gough was an outstanding sportsman in his own right and saw the value of sports in motivating students to better themselves. Many of his students used their sporting ability to help get scholarships abroad and educate themselves. He was the football coach at the school for ten years and during that time, St. Augustine's High School won the annual school League every year, and the Cup eight years. He was the first to get the players to use football boots. St. Augustine's were always the best-dressed teams as he imported their playing gear from O'Neill's in Ireland.
Fr. Joe Gough ensured that the students had the best playing facilities in the country. He made the school football team out of a sand dump and spent many of the rainy seasons planting grass on the field. He had basketball courts built, and the provision of both tennis and volleyball courts as well for students interested in those sports.
He also introduced Cricket to the school. The Athletic team of SAHS/SJHS swept the boards every year in the Annual Inter-School Sports held at McCarthy Square. He founded the then famous Gymnastic Team, which performed on Prize Day and as a result was often invited to perform on the White House Lawn by the President, Sir Dawda Jawara to entertain State Guests.
Another initiative was the Senegambia exchange with Schools in Senegal. Trips were organized to Kaolack, Ziguinchor and Dakar on an annual basis. The purpose of these trips was to promote educational, cultural and sporting co-operation between the students of Senegal and The Gambia. Sacre Couer and St. Michel in Dakar were the more prominent schools in these exchanges.
In fact, Fr. Gough, found a kindred spirit in Frere Emmanuel in St. Michel in Dakar. The famous Sacre Couer Band often paraded on Independence Day and around the streets of Banjul. In the basketball and football exchanges SAHS frequently came out on top. There were many gigantic encounters in the Bishop Cleary Hall for night games in Basketball for both girls and boys. The Senegambian Football games took place in Box Bar Stadium and these encounters were normally filled to capacity. It was no great surprise that he was decorated with a Senegambian medal for this work.
Fr. Gough was not just interested in the present students of the school. He formed clubs to keep the boys together as they left school, hence he was the founder of both Young Africans and Roots Football teams. Both were in the GFA First Division when he left in 1983. He also encouraged and supported the Saints Basketball and Volleyball teams. Not surprisingly he was made a member of the GFA Big Five to run the national football team in 1982. He was a member of the Gambia Olympic Committee and both Basketball and Volleyball Associations. He was also both the Treasurer and Secretary of the Secondary Schools Sports committee and ensured all competitions took place each year. Fr. Gough ran a pre-season football tournament for schools each year to get the season up and running. He did the same for Basketball in the indoor hall at night.
Fr. Gough produced many outstanding international players in all the various sporting discipline's viz Football, Basketball, Athletics, Volleyball and Tennis and Cricket. He was also instrumental in founding the Gambia Rugby team, which he both coached and captained against teams from Senegal, Sierra Leone and Liberia. His evening training sessions from 6 to 7.30 were a must for anyone who wanted to represent SAHS.
Among the many outstanding Sportsmen that Fr. Gough produced the following deserve a special mention: Bye Malleh Wadda, Sheriff Mboge, Peter and John Prom, Paul Sarr, Moses Sarr, Victor Gabbidon, Edward Gomez, Anthony Sonko, Zack Ceesay, Peter and Paul Ceesay, Omar Faye, Richard Gomez, Abdoulie Barry, Kemo Fatajo, Aziz Corr, Baboucar Foon, Laku Robinson, Jeremiah Sock, Alhagie Conteh, Remi Joiner and Omoshola Joiner, John Roberts, Alade Joiner, Louis Thorpe, Ousman Jatta, Mbye Cham, Tijan Biri Njie, Hassan Jallow, Joseph Sambou, Ousman A B Njie, James Freeman, Sheikh Ndure, Suluman Fye, Samba Faal, John Gomez, Ice Jahumpa, John Pa Mu Ndow Gomez, Ousman Kebbeh Njie, Simeon Robinson, Mounir Alami, Sam Chapman, Ansumanna Tangara. Baba Jarra, Gabriel Ndow, Alpha Barry, Alieu Njie, Salifu Mbowe, Malleh Sallah, Sajuka Njie, Omar Taal, Ebou Njie, Abdouraham Jallow, Ebou Conateh, Ebou Faye, Bono Johnson, Peter Ndow, Abdourahman Jobe, Alhagie Jeng (Bocho), Yusupha Gai, Solomon Ebenezer Moore, Yusupha Badgie, and the many others.
Many of these 'stars' went on to represent their country with both honour and distinction in the various sporting disciplines such as soccer, basketball, athletics, tennis, volleyball and cricket as well as rugby. Of this Bye Malleh Wadda was the most outstanding sportsman in the History of The Gambia. He represented his country with honour and distinction in 5 sporting disciplines viz. Soccer, Basketball, Athletics, Tennis and Rugby. He represented The Gambia in the Olympics competing in both the Triple Jump and High Jump, and also in 1977 represented The Gambia at the World University Games in Bulgaria. Omar Faye became the best 200m sprinters in The Gambia, and also ran the 100m and was a member of the most successful Gambian Relay team ever. Peter Prom represented The Gambia in 1979 in Libya at the African Junior Lawn Tennis Championships. Peter & Paul Ceesay represented The Gambia in the Olympics in 800 and 1500m.
Among the many soccer internationals, Fr. Gough produced, were Bye Malleh Wadda, Joe Sambou, Aziz Corr, Paul Sarr, Peter Ndow, Victor Gabbidon, Louis Thorpe, Abou Johnson, Saul Faye, James Freeman, Kemo Fatajo, Alieu Nyang, Peter Prom, Baboucar Foon, Gerry Gomez and Sheriff Njie.
Listed among the Basketball Internationals produced by SAHS in the Fr. Gough era were: Alhagie Conteh, Reme Joiner, John Roberts, Abdourahman Jobe, Bye Malleh Wadda, Anthony Sonko, Abou Johnson, Zack Ceesay, Sam Chapman, Musa Njie, Alhagie Jeng, Omar Faye.
Then there were the boys who were always helping Fr. Gough and foremost among those was his PR man and Chief Advisor, Tijan Francis Ceesay, also affectionately called Tijan Masanneh Ceesay. Tijan was a debater, orator per excellence and Radio Gambia commentator, contributor to the school quarterly, Sunu-Kibaro, Junior Football Team Captain, and later coach for three years.
He was also a founder of Roots Football Club. Others who were always helping and managing affairs for Fr. Gough were Pa Sheik Jeng, Madikay Jallow, Willie Abraham, Momodou Jawara, Ebou Barrow, Baboucar Amar Njie, Maweya Deen, Maha Jeng. Ousman Sabally was the Physical Education Teacher and basketball coach during the Gough era and contributed enormously to SAHS successful teams.
It should not also be forgotten Fr. Joe Gough's role in helping bring about the ordination of the first Gambian Priests for the Catholic Mission. This was his first assignment in The Gambia and he lived in St. Michaels Seminary, Fajara where he was Director of Vocations for The Gambia.
With the help of Pere Sagna (later Bishop Sagna) he helped to produce the first 5 Gambian priests viz. Frs. Peter Gomez, Anthony Gabisi, Edward Gomez, David Jarju and Anthony Sonko. Fr. Gough says that this was in fact, his greatest achievement in The Gambia, which he was very proud of.
We thank Fr. Gough for all he did on behalf of St. Augustine's High School. He will be fondly remembered by all as a very good man, and excellent Missionary, Sportsman, Teacher, Principal and Educationalist and as a 'Father' to all his students and those who had the pleasure of knowing him. His deep and manifest love for humanity in general and for his students in particular is well exemplified in his tireless efforts to improve the education, health and well being of the people of The Gambia.
I leave the last word to Pa Modou Faal who paid this Tribute to Fr. Joseph A. Gough on his shocking departure: (culled from Veteran journalist William Dixon Colley's THE NATION Newspaper, 16th July 1983): 'There was 'jealousy' over his achievement within a very short time. They snatched him from The Gambia... The citizens of this country lamented his transfer. If the Educational, Social, and Sporting populace of The Gambia would have their own way, they would petition the stay of Father Joseph A. Gough to continue his good work in these fields. The departure of Father Gough would leave a big vacuum in the development and reconstruction of Education, Sports and Culture in The Gambia. For we have in Father Gough the qualities of a Great Leader, an excellent Administrator, and a "Boyman" who has no likes or dislikes, for he treats everybody as equals.
If he had an opinion, which he thought worthwhile, he showed a capacity to get involved in it to a quite unusual degree and to work steadfastly for its implementation.
These can be better illustrated in the following, when he strove to increase the number of St. Augustine's High School students from 400 to 1050 students...over a 100% increase. The revival of the St. Augustine's Old Boys Association (Past Pupils); the introduction of the 6th Form to SAHS and a four-stream system in St. Augustine's High School. The erection of a School Library; the fencing of the School boundary with an 10 ft. High wall, with cemented block right round; the purchase of a School bus, a 25 passenger seater, were among his practical contributions to the progress of education in SAHS and in The Gambia.
He introduced to the Senegalese, sports, cultural and educational, exchange visits, which earned him the Decoration by the Government of the Republic of Senegal for the above.
He sponsored and helped train the Young Africans and Roots Sporting Clubs as First Division teams of the Gambia Football Association…What a loss he is to The Gambia...?"
St. Augustine's High School Song
"Recta Sapere
Author: Tijan Masanneh Ceesay
Read Other Articles In Article (Archive)