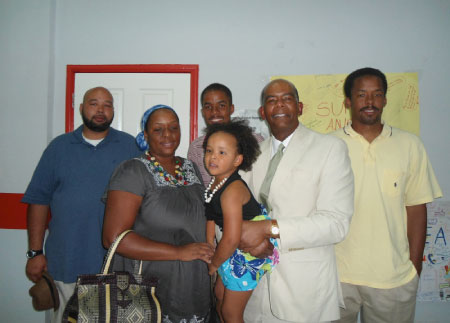 The first black US Peace Corps volunteer to come to The Gambia, in 1970, nine years after the founding of Peace Corps by former US President John F Kennedy in 1961, has arrived in The Gambia with his family, to share his experience as a peace corps volunteer.
Clinton Etheridge, who is in Banjul accompanied by his family including three of his children, four-year-old grand daughter and son-in-law, addressed a gathering among them US ambassador to The Gambia, Pamela Ann White, on Tuesday at the American Corner along Kairaba Avenue.
Clinton Etheridge served as a Peace Corps volunteer from 1970 to 1972 in The Gambia, where he taught Maths at Latrikunda (LK) School. He also met Alex Haley here in Banjul, during Haley's research on his roots and tracing his ancestral home.
Being in the country courtesy of the US Embassy and US Peace Corps Banjul office, Clinton gave a lecture on the topic "A Returning Peace Corps Volunteer: Then and Now."
He recalled that, 40 years ago, he was the first black Peace Corps volunteer in The Gambia, noting that he came trying to answer the question: "What is Africa to me?"
"Here in The Gambia, I was a senior Maths Master at LK School, and I was also the Peace Corps Maths curriculum development coordinator at that time, and a member of the Peace Corps basketball team," he recalled.
According to him, he met Alex Haley in The Gambia in 1972, when he was tracing his roots back to Juffereh village and his African ancestor, Kunta Kinteh.
"I came of age during the American civil rights movement of the 1950s and 1960s. In those days, young Africa-Americans were black and proud of Africa. We tried to identify ourselves with Africa leaving our hair in afro," he told the audience.
Currently the vice president of the California Economic Development Leading Initiative, Clinton said there are several important lessons he learnt in Africa.
Jeffrey Cornish, Peace Corps Country Director, speaking in a post lecture interview said they feel proud as Peace Corps volunteers to welcome Clinton after serving in The Gambia some 40 years ago.
According to him, since its formation in 1961, Peace Corps volunteers have contributed meaningfully towards the development of The Gambia in various ways.
The lecture was also graced by Ms Cindy Gregg, the deputy US chief of mission in Banjul.
Read Other Articles In Article (Archive)