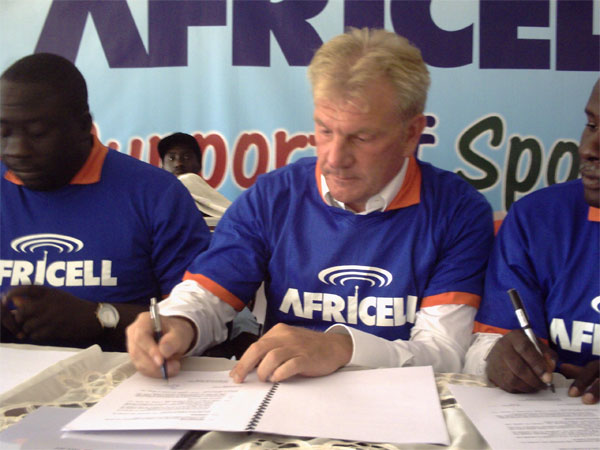 The head coach of the Gambia Senior National team the scorpions, Paul Put has said that he is not a fantasy coach following his side's victory over the weekend againstAlgeria in Banjul.
PP made this remarks in reaction to the people's call for him to made changes in the second half of the Gambia /Algeria game.
He said" I am not a fantasy coach. In African football fans always cry for changes because that they want chances. People want change I am not a fantasy coach. I can tell you that if I make a change, I have to be sure that it would be better if the players are doing technically what you are asking and they do everything 100%. I will not make any changes even if the whole stadium is shouting for a change. I don't do it because am not a fantasy coach". He said
Commenting on the game coach Paul Put said that"we have to be very proud of what they have been doing on the pitch with my three weeks training with the team. I am very proud to see the way they are playing the mentality and the team spirit and the way they play football, after three weeks on what I saw the team play create chances in every game". He said
The Scorpions defeated Algeria in the current Nations and World cup qualifiers over the weekendto bring back the hopes of qualifying in both competitions for the first time.
Mustapha Jarju converted a penalty in the 19 minutes of the first half to a goal to give the scorpions the lead andthe only goal of the game.
The Algerians had numerous chances of making the equalizers but Gambia's Keeper Musa Bajaha proved to be a hard nut to crack.
In the Second half the Scorpions mounted pressure on the Algerians but their efforts proved futile as they find it difficult to hit the target.
The second half also witnessed the appearance of Ken Abdoulie Mansally ,Yankuba Ceesay, and Assan Jatta who were substituted in the73, 84 and 88 minutes of the game respectively in exchange ofEbou Sillah, Ousman Jallow and Aziz Corr Nyang.
The Gambia and Senegal are with five points each in group six fixtures followed by Algeria with three points while Liberia remains at the bottom of the table with only two points after all the teams played their three games so far.
Meanwhile, the Gambian team is expected to leave Banjul for Algiers, Algeria today via Dakar to take on the fennecs of Algeria in the return leg over the weekend. It could be noted that, when this paper earlier contacted the Algerian Coach on his views about the Gambia / Algeria Match declined to comment.
Read Other Articles In Article (Archive)