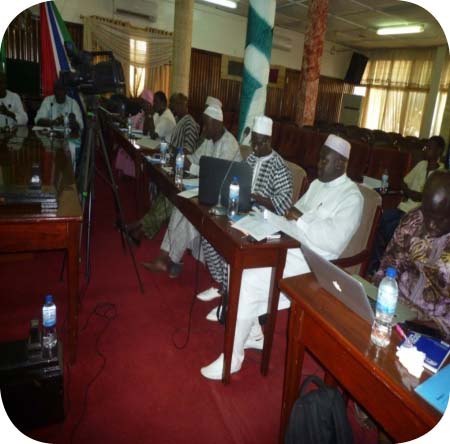 Hon. Abdoulie Bojang, Speaker of the National Assembly, has said parliamentarians play an essential leadership role in combatting corruption throughout the legislative process, and in their oversight and representative functions.
Hon. Speaker Bojang was speaking at a one-day sensitization workshop on the Anti-Corruption Act 2012 organised by African Parliamentarians Network against Corruption (APNAC)-The Gambia Chapter on the theme:"Let each enlighten one."
APNAC was formed in Kampala, Uganda, in February 1999 by African parliamentarians, and since its formation it had been engaging in promoting accountability, and public participation in the processes of government, as the best way to control and fight corruption.
The network recognizes that parliamentarians play an important role in combatting corruption throughout the legislative process, he said.
The aims and objectives of APNAC include, among others, to coordinate, engage and strengthen the capacities of African parliamentarians to fight corruption and promote good governance; advocate for inclusion of anti-corruption measures in government priority programmes, and develop links with oversight committees of parliament and parliamentarians across Africa.
Corruption is undoubtedly one of the greatest constraining factors to economic and social development in the African continent, as it stifles economic growth, Speaker Bojang added.
Corruption is a disease that threatens the hopes of the poor for a better future for themselves and their children, he continued.
It drains finances that might otherwise go to programmes that bring education within reach of poor children, or that offer health care to the ordinary citizens, he continued, adding that corruption diverts funds intended to provide essential services that are critical in the eradication of poverty.
Honourable Cherno Jallow, chairman of APNAC -The Gambia Chapter, said corruption is as old as mankind and its complete eradication is an illusion, but to control and minimize it is a possibility.
Although there are several conventions dealing with corruption and bribery, there is no single globally-accepted definition of corruption.
Therefore, he added, this also contributes to the complexity of the fight against corruption.
The National Assembly Member for Upper Niumi added that it was a long journey, but it was better late than never.
Hon. Cherno Jallow thanked the National Assembly Authority for giving them the courage and support by footing the bill for the workshop.
Momodou A. Sise, assistant Clerk at the National Assembly, who chaired the workshop, said the sensitization workshop was timely and complemented the government's efforts under President Yahya Jammeh.
Read Other Articles In Article (Archive)