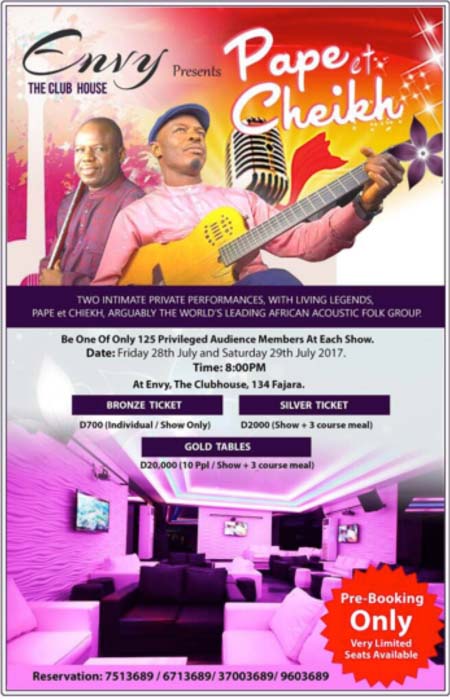 All preparations have been completed as two intimate performances with living legend Pape Cheikh, an international musician from Senegal and also the world leading African acoustic folk group will entertain music lovers tonight with music from their repetoire.

A series of shows have been lined up to whet the appetite of music lovers with only 125 privileged audience allowed at each show.
The concerts are being organised by ENVY, The Clubhouse as part of promoting their activities in the country.
Pape Cheikh is expected to perform today Friday 28 July to entertain music lovers and on 29 July, the same concert will be repeated.
He will perform both concerts at ENVY, The Clubhouse 134, Fajara starting at 8pm.
The Point Entertainment and Lifestyle was informed that the events will be one of a kind in the country, quoting Aziz Willian, the general manager of Envy, The Clubhouse.
He said gold tables costs D20,000, individual D700 and VIP D2000.
According to Aziz, the complex comprises three parts: which is Envy The clubhouse which is exclusively for members and conference attendees and it provides a safe haven for the well connected and well to do.
He said within the complex is Utopia restaurant which is open to the public for fine dining with a touch of Madness, adding that it also comprises a bureau which is well manned to deal with all membership, booking and other enquiries.
Mr Willian stressed that Envy has over the years demonstrated its penchant for uniqueness in the industry, culminating in more than a half century of hospitality experience, adding that Envy is where the Power Brokers and Professionals can Relax, Indulge in Fine Wining and Dining, enjoy Global Standard Music and Quality Late night Entertainment.
With two international entertainment moguls at the helm of affairs at this state-of-the-art venture, and a hand-picked female management team, Envy the Clubhouse Complex has settled easily into its title as Gambia's most exclusive venue.
Dubbed, the home away from home of Gambia's Elite, it is certainly living up to its lofty expectations and set to wow even more as Live music offerings from SeneGambia's most revered artistes queue up to play to audiences limited to only 100 lucky souls.
Its marriage of Afro-Asian Michelin star-standard food from Utopia Restaurant and Silver-Service trained staff, with world class entertainment reserved for members of the ultra-modern Clubhouse – is entirely unique to The Gambia, and never fails to impress.
Dilating on the Utopia restaurant, Aziz Willain told Point Entertainment and Lifestyle that the guest experience is everything at the Complex, so at Utopia Restaurant, imported Executive Chef Shahid Ansari brings creative flair to his creations: Flavours of Pan Asia, tempered with Haddy Ansari's archetypal African Dishes, and the sneaky addition of wood-fired Pizzeria adding delicious Italian and other Continental goodies to the permanent menu.
What's on offer changes monthly with seasonal and imported items, ensuring that everyone will find something they will keep coming back for- be it the oven seared British Lamb chops, Leban-inspired Wraps, Haddy's insanely popular Benachin ( Jollof Rice and Gambia's Famed National Dish) or Domoda (Traditional Fresh Peanut-Butter Stew), freshly caught Seafood, Vegan Medleys, or delicious Italian Calzones or Pizzas. It's only yours for the asking - anything off the menu - and the culinary team will assist you.
The best of world food, presented with a touch of Madness, as their motto declares, until the last member upstairs is satiated.
He said by day, a high functioning and modern Corporate space is available where the Private, Public and Tertiary sector host Conferences and Meetings; that will pack a Real Corporate Punch.
They offer catering (ranging from Bespoke Menu options, Silver Service or Buffets and Grills) and other hosting services as well as technical, logistic and planning support on request, all from their dedicated staff.
Members can expect anything from Live Bands, Cultural Performers, Key Sporting Events, Themed Evenings, Networking Events, Cultural Celebrations, Bi-Monthly Private Concerts and Personal appearances from Global Artists.
Read Other Articles In Article (Archive)