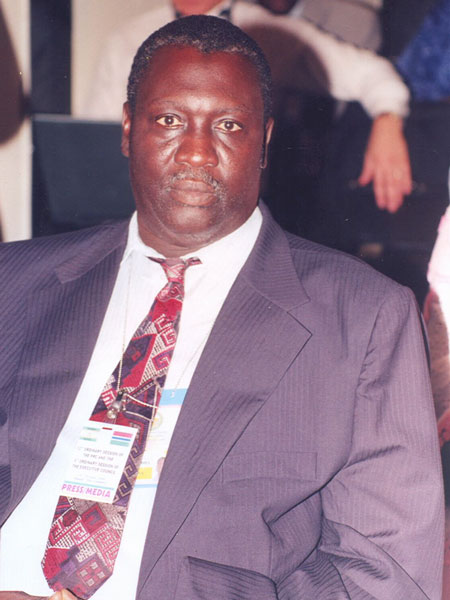 The trial of Pap Saine, Co-publisher and Managing Editor-in-Chief of The Point newspaper concerning his nationality continued yesterday at the Banjul Magistrates' Court before Magistrate Lamin George.
Testifying, the second prosecution witness, Dawda Leigh, told the court he is a birth and death registration officer at the Medical and Health Department. He said his duty entails registration of births and deaths, to approve documents for birth certificates. "In the event of doubt of birth or death certificate from individuals or organisations I do verify," he told the court.
Mr Leigh further informed the court that on 17th February 2009 at around two officers from the Fraud Squad came to his office with one birth certificate belonging to Baboucarr Saine for him to verify.
According to him, he requested the certificate and the file involved, adding that the file or the register was torn apart. "But going by the record on the birth certificate belonging to Baboucarr Saine No:CLR2/289/74, the records indicated a file that was in our possession, and going by the hand writing on the birth certificate and signature of the registrar, these were similar to other records that were in our possession," he stated. " I conclude that the said birth certificate belonging to Baboucarr Saine was authentic," he added. He said Certificate No 289 belongs to Babucarr Saine, and 1974 was the year the birth certificate was registered. "
Going by the birth and death registration Act, parents shall within 14 days of a birth, register their children. However registration beyond this period is permissible, but has some legal and financial charges attached to it," he added. The birth certificate was shown to the witness and he said it was identical with that brought to his office, because it contained the same information.
He said he made a statement to that effect and it was written by himself.
It could be recalled that Mr Pap Saine is standing trial on charges of obtaining registration by false pretence and obtaining passport by false declaration. He denied the charges.
On count 1, the alleged offence revealed that Pap Saine sometime in the year 1994 in the city of Banjul knowing to be non citizen of The Gambia unlawfully procured and obtained a Gambian birth certificate No CLP 289 by false pretence thereby committed an offence.
While count 2, the alleged offence stated that Pap Saine on or about the 21st May 2007 at the Immigration headquarter in the city of Banjul by false declaration obtained a Gambian passport No PC 183902 for himself thereby committed an offence.
The defence lawyers are Antouman Gaye, Hawa Sisay-Sabally, Momodou Musa Drammeh and Ms Hajum Gaye.
The prosecuting officer in this case is Cadet Inspector Amadou Keita.
The case was adjourned to 22nd April 2009.
Read Other Articles In Article (Archive)