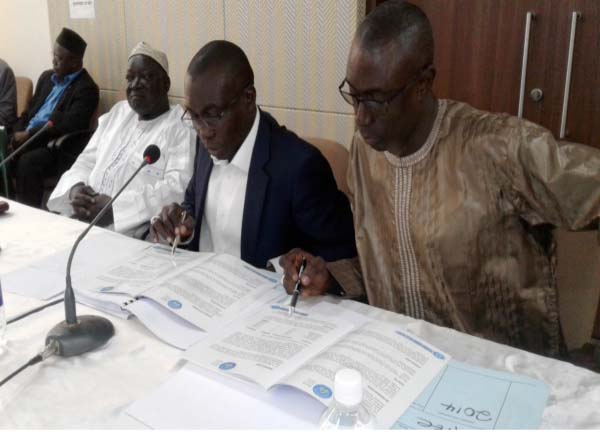 The joint session of the Public Accounts and Public Enterprises Committees (PAC\PEC) of the National Assembly yesterday adopted the annual activity report and financial statement of the Social Security and Housing Finance Corporation (SSHFC).
Speaking at the session, Hon. Sainey Mbye, National Assembly Member for Upper Saloum, thanked the board and management of the corporation for fulfilling their mandate to the Gambian people and for their annual activity report.
"They have done very well in the recent years like in 2013, 2014 and 2015 respectively and looking at the GPPA report they have 90 per cent, 93per cent and 95 per cent compliance, which is a job well done," he said.
Hon. Mbye added that looking at their activity report SSHFC talked about their corporation social responsibilities (CSR) to various sectors in the country such as health, education, agriculture, housing and other areas.
He said that over the years the corporation had been "doing very well on meeting its CSR, adding that in the SSHFC report they also indicated that the year under review (2014) their "contribution towards national development was massive and will continue to do so".
He added that the management had also indicated in their report that as enshrined in their corporate mission, they would continue to contribute "meaningfully towards the socio-economic development of The Gambia while at the same time expand our corporate social investment portfolio".
Looking at their constraints, they have "people or institutions that owe SSHFC", he said, adding that "if the money is not paid, in the future SSHFC will end up having problems".
"I want to find out from the management because we were told they are pursuing the loans and mortgages. As we stand, how far have they gone in pursuing their loads?" he asked.
Also speaking at the session, Hon. Seedy Njie, a Nominated Member, also thanked the board and management of the corporation for their activity report and for their "full compliance" with GPPA.
He said he wanted SSHFC to continue their rendering of good service to the public but at the same time questioned them about their housing scheme, university education and their sponsorship package as well as loans issued by the corporation.
Responding to all the questions posed to him by some assembly members, the corporation's managing director Edward Graham said that in terms of the loans, the management was equally concerned about it.
"We are working hard towards that and in respect of the contribution, we have been able to include in the 2015 Act to establish a tribunal that will be responsible for pursuing the institutions that are owing us," he said.
The SSHFC had been working with the Ministry of Justice to set up the tribunal, he said, adding that they are also working out some other methods of mitigating their challenges.
Read Other Articles In Article (Archive)