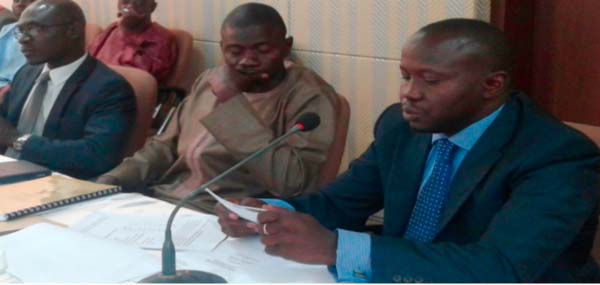 The joint session of the Public Accounts and Public Enterprises committees (PAC/PEC) of the National Assembly yesterday adopted the activity report and financial statement of the National AIDS Secretariat.
In his contribution, Hon. Lamin Jadama, the National Assembly member for Niamina West, asked whether the University of The Gambia was ready to provide training for NAS.
Hon. Ousman Njie, National Assembly Member for Sami, made some observations on the accounts. He said the balance brought forward was not numbered, and the balance brought forward in 2013 should be captured under the received column as opening balance in order to avoid narration of change.
He said that on the payroll there was also injury compensation, which was 1 per cent of D15 contributed by the employer for the employee.
He said he could read from the report that the said injury compensation fund had been deducted from the wages of employees, but according to him such deductions should be given back to the employees.
"I also want management to reset their accounts for the comparative formal basic pattern to enable the Assembly committee to make comparison in the subsequent years," Hon. Njie added.
He said he had not seen anywhere the AIDS council was mentioned, because they need to have the members of the council, saying none of the audit accounts had been signed by any member of the national council.
He thanked the board and management of the National AIDS Secretariat for strengthening the secretariat.
He said their focus on mother-to-child prevention, which was very key, and their early diagnosis on infants were the right way to prevent HIV in the country.
Responding to all the questions posed to them, the Director General of NAS, Ousman Badjie, said in 2001 the World Bank supported NAS to implement its programmes.
NAS was formally established to be the national coordinator for the HIV responses, he added.
"We indicated during our first visit here that the support that we received from the Global Fund in the beginning used to be minimal support towards infrastructure, but now there was a policy at the level of the Global Fund," he said.
As far as infrastructural development was concerned, the funds from the Global Fund could no longer be used for such development, and they needed to engage government to be able to make sure that they have a complex at any phase that could serve as NAS office.
"We are currently paying D450,000 annually as our rent and this will not be sustainable, particularly if the Global Fund ceases to provide the support we are currently receiving."
Badjie added that they had laid a foundation block on a land allocated to them for NAS, but the construction "could not still continue".
Read Other Articles In Article (Archive)