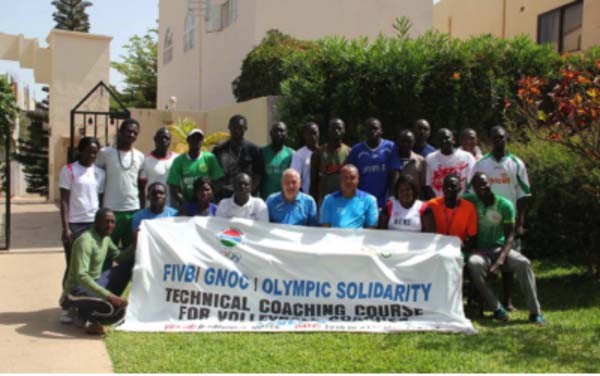 A two-week Olympic Solidarity-funded Level II Volleyball coaching course organised by the Gambia National Olympic Committee (GNOC) in collaboration with the International Volleyball Federation (FIVB) and The Gambia Volleyball Federation (GVBF) ended on Tuesday 31st March 2015 at the Seaview Hotel in Kolili.
The first of its king to be held in The Gambia, it brought together twenty coaches from across the country under the watchful eyes of FIVB course director Jivko Jetchev from Bulgaria and Bernard J. Denis from Seychelles.
The course has enabled coaches to improve their skills and absorb new coaching techniques that they can practice to promote the level of volleyball across the country for players of all ages.
In his closing statement, the second vice president of the Gambia National Olympic Committee (GNOC), Abdoulie MB Jallow, conveyed a message of solidarity to the IOC, FIVB and all the relevant authorities.
He pointed out that this training course is part of the continuing efforts by the International Olympic Committee (IOC) through Olympic Solidarity to build the capacity of member organizations, and the GNOC deemed it necessary to facilitate this programme as one of its key activities this year, in addition to preparing teams for RIO 2016 Games.
"You have learned what it means to be a true coach and how to develop others; you are a new generation of coaches ready to ensure that talent is nurtured from schools to professional level. Your role as coach is to enhance, nurture and develop talent; however, you should inspire your players to enjoy this lovely game of volleyball," Jallow stated.
The GNOC official urged the participants to translate the certificate awarded to them into programmes for youths and clubs' development, as their progress to the next level of coaching will depend on the positive use of knowledge gained during the course.
Speaking earlier the president of Gambia Volleyball Federation, Yunusa Barry, thanked FIVB, Olympic solidarity, GNOC, the instructors, government of The Gambia and the participants for their steadfastness, commitment and passion.
"Indeed this course was a success despite the constraints and the short time frame, but you were able to remain passionate,'' Barry opined.
He further challenged the coaches to utilize the learned skills in their daily routine as far as volleyball is concern.
"Looking at the composition of the participants we got coaches from the regions, clubs and centers. So go back and start the work as soon as possible," the volleyball official added.
The course director, Jivko Jetchev, advised the participants to be ready to face the new challenge. He described it as a success, but was quick to remind the coaches that they have a long way ahead.
The participants were disciplined, active and punctual, which he said made the work easy for him; furthermore he thanked the volleyball executive for the steps taken to promote volleyball in The Gambia.
Read Other Articles In Article (Archive)