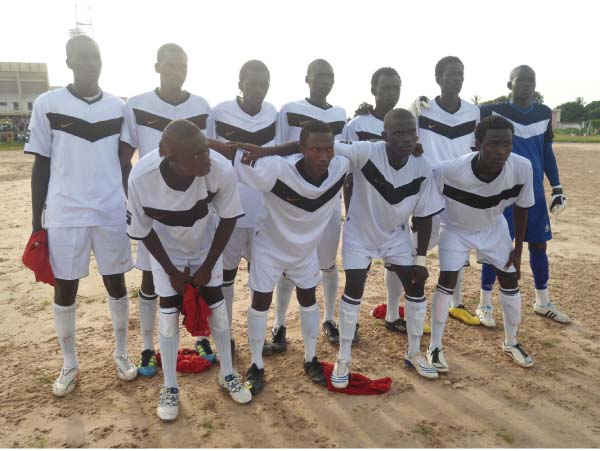 Zuwa FC's hope of replicating their impressive performance in last year's knockout competition has suffered a severe blow following their 1-nil defeat to Bremen Border in the first round of the Bakau Knockout championship at Real de Banjul Football field on Tuesday.
The last year's knockout finalists entered the titanic contest aiming to maintain their 100 per cent record in the competition as they did the last time, but got stuck by a disappointing result that let them fail to achieve the desired result.
This latest result came hot on the heels of another titanic contest which ended in a goalless draw between the two sides in the preliminary round of the league cup campaign few weeks ago.
Prior to their shocking elimination at the hands of Bremen, the Bakau New Town outfit were hugely considered the strong favourite to advance to the knockout quarterfinals considering their historic display in the same competition last season, but the result has proven to be completely different.
They might not be completely out of the race but the chances of them surviving are not in their own hands meaning they would now rely on the outcome of the other results for a possible four best losers hope.
The committee will select four best losers who will join the automatic qualifying teams for the quarterfinal stage of the competition at the end of the first round, Pointsport understands.
But whether the team's bitterly fought 1-nil defeat against Bremen will be good enough to see them achieve that objective is far from real.
Next for Zuwa FC is another crucial and decisive battle when they come face to face with Kachikally in the rescheduled league cup encounter on Monday.
Meanwhile, Linguere will be determined to overturn their 1-nil defeat to Magadan in the league campaign as they face neighbours Late F. Drammeh in day 3 of the elimination round at Real de Banjul Football Field in what promises to produce an exciting encounter today.
However Linguere will be without their experienced right back Modou Jatta, who suffered a serious knock in one of his eyes in the club's embarrassing elimination at the hands of Magadan last week, but reports reaching Pointsport have confirmed that another star player in the person of Lamin Dampha will be back from suspension.
While Linguere will be aiming to recover from what is believed to be the club's fourth consecutive season without a silverware, Ron Mango who are also experiencing the worst start to the season in as many years will be determined to beat Tos Actief in a bid to re-establish their heroic form that saw them win the double (League and Knockout titles) last term.
Read Other Articles In Article (Archive)