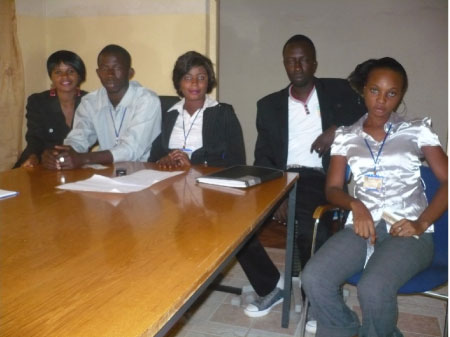 Nyimsy B Promotion, a new outfit in the entertainment and lifestyle industry, has started full-fledged operation to take the country's entertainment industry to higher heights.
Nyimsy B Promotion is a new company which has come to work with Gambian artistes as well as to engage the young people of this country who are talented in such disciplines as sport, fashion, comedy and writers.
Speaking to journalists during a press conference on Monday held at their head office in Bakau, Ma Nyima Bojang Director General of Nyimsy B Promotion said her company started as a young female association and has now developed to a bigger company.
She said the company has a lot to offer among which is the shooting of a movie entitled 'The Boy is mine', which they will premier in July this year.
According to her, the company will organize a wrestling contest come March, the combat of which will be between Jinneh Morry and Amat Saine to be held at the Serrekunda Mini Stadium.
She told entertainment journalists that they will also work on a magazine to be called 'The Hottest Spot' with the aim of exposing the talents young people of this country have as well as covering other issues.
Director Bojang expressed her special thanks to FIG Bureau de Change for sponsoring their first movie, adding that her company will work with artists to expose them internationally with awards.
She therefore called on young Gambians, especially females, to try and join the company.
"This is one of the ways I want to contribute my quota to national development," she said.
Netherlands Senior Expert supports Gaye Njoro Hair Plus
Gerda Knol Schott, a senior expert on hairdressing and cosmetology, is currently in the country to support Gaye Njoro Hair Plus by giving technical advice, marketing as well as finding funds for the institution both in Brusubi and the one at Farafenni.
Speaking in an interview with Entertainment recently at Gaye Njoro Hair Plus in Brusubi, Gerda Knol Schott said her mission in The Gambia is to support Gaye Skills Centre both in Brusubi and Farafenni.
The one at Farafenni is a new project for youths because there is no work in the community, she said, adding that the establishment in Farafeni will help the youth of that area.
"There are 2,300 experts in PUM and we have managed to support entrepreneurs in different professions," she said.
The school is a growing institution with good staff who need upgrading and support.
"I will try through PUM to get experts to come and teach the students for longer period, especially in sport, massage, psychology, etc.
Fatou Saine Gaye, Executive Director of Gaye Njoro Hair Plus, in her remarks, said the institution started since February 2009 and the school is fully accredited by NTA. Madam Saine Gaye added that the school has a graduated of four batches with a total number of 120 graduates from both the two institutions. Farafeni institution was established by Gamjobs.
The school executive director noted that this year the school was supported from the Gambia Growth and Competitive Ness for the project to continue in Farafeni annex. She thank Madam Gerda through Pum for their support. She is very supportive by giving us good lectures in the area of marketing, massage and beauty. Our plans is to add skills in Farafeni adding that come March 2013 they will start training youths in Farafeni in the area of cookery, IT, hair dressing, beauty , massage therapy and tailoring.
Read Other Articles In Article (Archive)