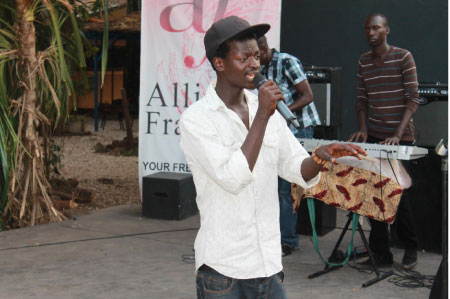 Mighty Joe aka The Tsunami Will host what he describe as "Thank You" night to his fans who turn up in their large numbers when he release his double album both CD and DVD album last October at Alliance Franco. The young musician who is well love by the Gambian populace said he felt over joeys that night and feel he should organize something for his fans who showed him so much love when he was launching an album.
Mighty Joe said is in this regard that he is calling on all his fans once again at Alliance Franco Friday 8th March and Brikama on the 9th March.
In a recent interview with the Tsunami , Mighty Joe said his show is the most talked about show in town and he has already arranged over 20 radio interviews to talk about the show. He said he is calling on all his fans once again because this show will be one of the greatest show in 2013.
Mighty Joe said he is known to deliver to the people and that's why he always come with a live band, he said he is not going to give cheap show to his fans and almost all the artist will be backed by a live band.
The young Musicians said all the artist of his generation are invited to the show and are all gearing up for the show. " what will make the show so special is that my two new songs Jarabi a song I did with Jalimadi and another song call bugatuma  a song I featured Gee will be performed live on that night, my fans should not miss this show".
When asked what are the benefits the fans will have at the gate when they come for the thank you show? Mighty Joe said unfortunately his T-shirts are finished in store and they are making arrangements to print more before the show, but he assured the fans that there will be 50% discount on his album sales at the gate both the CD and the DVD He called on his fans to come early this time to avoid the difficulties at the gate some of them had during the last show.
The young artist said there are people telling him that he should have organize a free show for the fans. He said the fans are right but this show he is not doing it at an open ground and that Alliance has charge him to do a show there. He said he paye for the TV adverts, Radio adverts and many other expenditure which is not free. " so if I want to make it free for my fans that's will not be at my advantage, they will not believe if I tell them how much I spent already on the show, but why not I will organize a frees how for them soon"
When asked if he got any sponsors from companies, the Tsunami said there is one individual who loves his music so much and is helping him in various ways in the person of Mr Nfamara Darboe of child fund the Gambia.  Mighty Joe said his thank you to the Fans is not only going to stop at Alliance and Brikama. He said they have a line up to perform at Busumbala, Lamin and Sukuta. From there he said they are proceeding to Basse, Farafenni and Soma to say thank you to the fans. He said when he is back in town he will start a school tour. On a final note Mighty said he is expecting all his fans at Alliance on Friday 8 march and the following day in Brikama. He said
he really want to thank the head of state who is really supportive to his music and his entire cabinet. "I want to say thank you to my number one fan his Excellency the President and your entire cabinet for not only giving me the courage and the platform to do music but also to many other Gambian musicians".
Read Other Articles In Article (Archive)