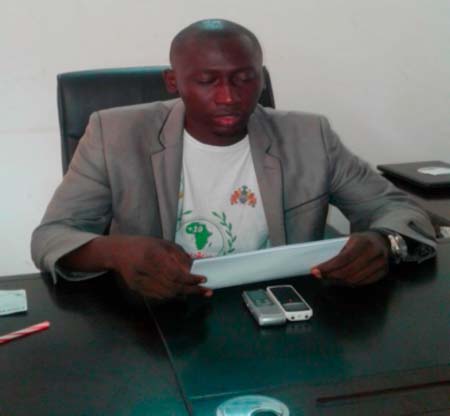 The National Youth Council (NYC) yesterday commemorated the Africa Youth Day (AYD), which is celebrated across the continent with the theme: "Promoting youth mainstreaming as a catalyst towards harnessing the demographic dividend".

The day has been proclaimed and instituted on the occasion of the African Youth Charter's adoption in the executive council decision of the Banjul Summit in 2006.
According to the executive director of NYC, Lamin Darboe, AYD is out to promote an increased recognition of youths as key agents for social change and economic growth in all aspects of the Africa society.
It is also to contribute and channel the youth motivation, energy and idealism, and to reinforce the efforts towards the achievement of sustainable development in Africa.
He said the day was an opportunity to reflect on the status of the African youth, the gains made, challenges faced, the opportunities and also to review the status of implementation of the African Youth Charter.
"The Gambia National Youth Council joins the rest of the continent to celebrate this day in the format of a press briefing, symposia, community outreach, among others," he said.
He added that this year 2016, the celebration would take the form of a press briefing and a symposium.
The symposium shall assume an intergenerational discourse on this year's theme and on current issues affecting youths of The Gambia.
He explained that the theme came at a time when political landscapes in Africa are embracing democratic transformation, where several countries have conducted their elections and The Gambia will hold its presidential election on December 1.
Mr Darboe further stated that the theme would not also have come at a better time than now, when 2017 is declared as the year of harnessing the demographic dividend through investment in youths.
He emphasised that it is an open secret that unemployment, youth irregular migration, HIV/AIDS, inadequate TVET education, climate change, violence and extremism, drugs and alcohol, GBV particularly on girls and young women, have continued to characterise the plight of youths in many quarters, making their mainstreaming a catalyst to harnessing the demographic dividend, which is important for Gambia and Africa as a whole.
In The Gambia, he said, several attempts had been made and tangible initiatives and schemes are in place to address the socio-economic challenges of the youths, to enable them fulfill their potentials and contribute to national development endeavours.
Read Other Articles In Article (Archive)