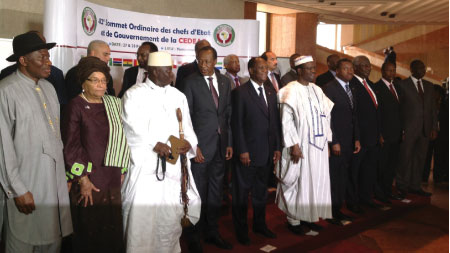 President Yahya Jammeh has said that there is no permanent proof of ensuring peace and stability in the sub-region, stressing that all that West Africa needs to do is to prepare itself for eventualities on time.
President Jammeh, who was speaking last evening at the Banjul International Airport on his return from Cote D'Ivoire where he attended the 42nd Ordinary Summit of ECOWAS, said there is no way ECOWAS will allow the Northern part of Mali to break away because the sovereignty of Mali as one entity is sacrosanct to the existence of ECOWAS.
"So there is no way we will allow Mali to break into North and South. If that happens, there will be permanent insecurity in the sub-region," he said.
While describing the summit as the most successful, the Gambian leader said ECOWAS cannot do it alone and that is why the Government of France is being thanked for what they have done.
He however appealed to France to hold on to its decision to withdraw its forces in Mali, stressing that if they withdraw now, it is going to be more costly for ECOWAS forces.
"So I hope we will be as successful in Mali as we are successful in this summit and we hope we have learnt a lesson in Mali, which is unfortunately a very expensive lesson but I think next time around ECOWAS will be up to the expectation of the ECOWAS citizens," he added.
 According to President Jammeh, this is West Africa and unfortunately as you are putting off one fire, another fire is being set up by somebody else; this is the problem we have.
"But also who is setting these fires up? Mostly foreign-based interests together with some puppet governments in the sub-region that are being used to destabilize African countries so that they can better exploit our resources to the detriment of West Africans," he noted.
The permanent solution to these problems, he added, is not the governments but the people themselves; let them understand that killing each other is not the solution but a major problem.
"Each time we fight we are losing our resources and becoming poorer while enriching people outside Africa," he said.
The Gambian leader noted that unless "we Africans learn and understand that the more we kill each other, the poorer  we become and when we go there for asylum, they put you in a concentration camp called asylum seekers camp and from there you are deported, we will continue to kill each other and our resources will go."
Africa, he said, is wealthy enough for all of us to become very wealthy but unfortunately, we are only killing each other.
"This summit for the first in seven years everything was put on the table to be discussed and we discussed frankly without anybody getting angry I hope and this is why it is described as the most successful summit," he said, adding that there are still problems that needs to be addressed; the situation in Bissau, the transition period in Bissau and how "do we solve the problem of Mali on our own it is practically not possible."
Read Other Articles In Article (Archive)