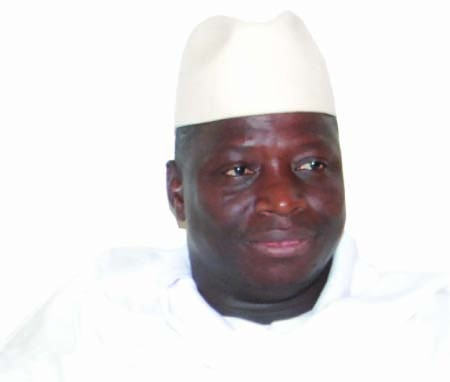 In yet another instance of tough-talking, President Yahya Jammeh has warned that there will be no mercy for anyone who thinks that he or she could get away with tax evasion or cheat his government.
"We are going to recover every butut that has been left out. Whether you appeared before the tax commission or not, if you have arrears, pay because we will prosecute you under economic crimes," Jammeh said yesterday afternoon, when members of the Tax Commission presented their final report to him at State House in Banjul.
Established in November 2011 by President Jammeh, the commission of inquiry, chaired by Justice Mama Singhateh, looked into tax evasion and other corrupt practices of accountants, legal practitioners, companies, and private persons, medical practitioners and institutions required to pay tax to the Gambia Revenue Authority (GRA).
The commission was also mandated, among other things, "to ascertain the extent of loss of public revenue resulting from non-payment of capital gains tax, personal income tax and sales tax; and to determine the role of individuals, groups and professional bodies in the evasion and avoidance of tax".
It also enquired into "professional malpractice by members of the public as it relates to obtaining goods through widespread issuance of false and dud cheques and other malpractices by members of professional bodies as these have affected foreign direct investment in The Gambia".
According to Jammeh, some of the people that are mentioned in the report were people that he fired before, and "some of the ministers came to my office almost in tears and wanted to blackmail me, by saying that almost the entire GRA has been demoralized by the actions taken against those people."
However, he said that no Gambian should blame him if he takes actions against those mentioned in the tax commission report, recalling that when the GRA House was being inaugurated, he gave a warning that heads were going to roll.
"If those who were supposed to enforce revenue laws become criminals, then the state is having a very serious problem, and we are not going to condone that," he stated.
Tough-talking Jammeh told members of the commission that he would never compromise on his principles, no matter who is involved.
"As long as you are on the wrong side of the law, we will deal with you; I don't care an uncle, cousin, brother or whatever. Corruption, we will fight it tooth and nail," he vowed.
He announced that there will be a permanent anti-corruption commission, and a full-fledged criminal investigation into all the customs deals, so that instead of waiting for a commission report, once they find something wrong, they will able to take the matter before the courts, as soon as possible.
"As at now, if I deal with anybody, I don't want anyone to come and appeal to me. Not long ago, I have been firing people and people who don't even know themselves or don't even know their names were criticizing me for dismissing people," he noted.
Jammeh further stated that he has a duty, which he was sworn to carry out, and will carry that duty to the letter.
"Not only would we dismiss people, but we will also prosecute them before letting them go; because most people think that you can steal and be dismissed and after a few days, you just set up your business; this is not going to happen in this country," he said.
Noting that, unlike in the former government, Jammeh stated that he is ready to die to make sure that this country is clean and developed, and will not compromise on this.
"We are going to put a definitive end to corruption in this country by any means possible; and I mean by any means possible, how you interpret it is up to you.
"What would I gain by firing people? Nothing, but I gain a lot by firing corrupt people, because they are a menace to society," Jammeh added.
Further noting that a lot of tax and revenue that belong to the state and people of this country is going into private pockets, Jammeh said "if proper revenue collection is done, this country would not have a budget deficit".
In his view, some people in the legal profession think that they are above the law, but he vowed that he I will prove to them that every Gambian is equal before it, because, as he put it, "we are being protected by the same laws, and we are bound to obey the same laws, whether you are a lawyer or not.
"We are going to recover every butut, and those who owe and appeared before the commission, and their names are here, will have sleepless nights because they have to pay every butut of it, and we will prosecute them without delay," he declared.
Read Other Articles In Article (Archive)