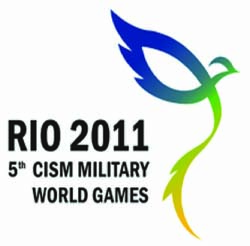 The three Gambian Armed Forces athletes who left Banjul two weeks ago for Rio de Janeiro in Brazil to take part in the 5th World Military Games (5MWG) will return home on Tuesday without a single medal.
Suleyman Njie (100 and 200m runner), Dawda ML Ceesay (1500 and 5000m runner) and Lamin Darboe  (100 and 200m runner) are coming home empty-handed after competing for the Gambia Armed Forces in the 5MWG championship.
THE 100M RACE
Lamin Darboe was Wednesday eliminated in the semi-finals of the 100m race after finishing 4th position in the heat 3 with a time of 10.98 seconds.
Lamin Darboe made it to the semi-finals on Tuesday after finishing 3rd in the heat four with an encouraging timing of 10.92 seconds, but failed to repeat his performance in the semi-finals against highly experienced competitors as Nigeria-born Qatari sprinter Femi Seun Ogunode, Italian Emanuele Di Gregoria and the well-supported Brazilian Andre Nilson.
Suleyman Njie, the other Gambian athlete that competed in the 100m race, failed to qualify to the semi-finals on Tuesday after finishing 5th position with a timing of 11.82 seconds.
THE 200M RACE
It was another disappointing outing for Lamin Darboe and Suleyman Njie on Friday in the 200m race as both failed to cross the first round of the competition.
Suleyman Njie, who first raced in the heat one, finished 4th position with a time of 23.26 and could not make it to the semi-finals.
It was more complicated for Lamin Darboe, who, after finishing 3rd position in the heat six which would have taken him to the semi-finals, was disqualified by the jury for violating rule 163(3B) of the International Amateur Athletics Federation (IAAF).
THE 5000M RACE
On  Thursday morning, it was another heartbreaking  news for The Gambia contingent in Rio as  Dawda ML Ceesay also failed to progress to the finals  of the 5000m after finishing 14th position  out of 17 competitors  with a timing of 16.15 minutes.
THE 1500M RACE
Three hours after competing in the 5000m race, Dawda ML Ceesay returned on the tracks to compete in the 1500m race but it was the same story as he finished 6th position with a timing of 4.10 minutes and could not get the requirements to advance to the next stage.
Meanwhile the Gambian delegation led by Lt Col Kawsu Sanyang will leave Rio de Janeiro on Monday 25 July at 19.00 for Banjul via Algeria and Bamako.
Read Other Articles In Article (Archive)