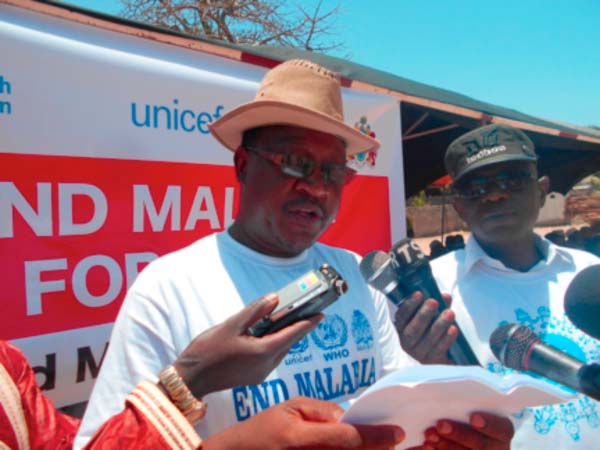 The National Malaria Control Program (NMCP), under the Ministry of Health and Social Welfare, in partnership with other agencies such as NAS, Global Fund, WHO and Ecobank, celebrated World Malaria Day (WMD) at Essau in the North Bank Region on Tuesday. The theme was End malaria for good.
In remarks, NMCP manager, Balla Kandeh, said WMD sets a platform for intensive debate so that education on, and awareness of, malaria are substantially and widely disseminated.
In this process, the media and all other stakeholders including religious leaders and community-based organizations, must uphold their respective stakes, he said.
The day came as result of the historic Abuja Summit where 44 African Heads of States and Government Representatives met in 2000 and made declaration to halve the burden of malaria by 2015.
During that summit, 25th April was set aside and declared as Africa Malaria Day to be commemorated each year.
During the 60th session of the World Health Assembly in 2007, Africa Malaria Day was changed to World Malaria Day, giving it a global dimension on the magnitude of the malaria disease burden.
The day provides countries with the opportunity to soberly reflect on the efforts being made to tackle the scourge of malaria.
It also provides an opportunity to renew partnerships at the national and international level for malaria control.
It is an opportunity for countries to learn from each other's experience and support each other's efforts.
It's a moment for Research and Academic institutions to flag their scientific advances on malaria to both experts and the general public.
It's an opportunity for international partners, companies, and foundations to showcase their efforts and reflect on how to scale up what has being worked.
He said, "We cannot contain malaria by working in isolation as members of a specific sector, or in collaboration as members of a loose amalgamation. By working together, as members of a concerted and cohesive force, we can put a stop to the formidable challenge the disease poses and, "End malaria for good."
For his part, Governor of the North Bank Region, Ebrima Dampha, said the theme was very fitting as Africa bears 90% of the malaria burden.
"The vast majority of malaria deaths occur in Africa, South of the Sahara where malaria presents major obstacles to social and economic development," he added.
He continued that, "Although malaria is curable and preventable, the disease kills more than a million people each year, mainly young children. In Africa alone, where 90% of malaria deaths occur, malaria is the leading cause of death in children under five-years of age."
The World Health Organization estimates that 3,000 people die of malaria every day.
Pregnant women and their unborn babies are particularly vulnerable to malaria.
When a woman is pregnant, her immunity is reduced, making her more vulnerable to the infection, which carries dangerous consequences such as stillbirth, premature delivery and low birth weight.
In The Gambia, malaria is the probable cause of 4% of infant deaths and 25% of deaths in children 1 to 4 years.
Although, the economic burden of malaria has not been fully determined, there is no doubt that the disease accounts for considerable loss days of productivity among the adult population, absenteeism from schools and workplaces and increased household expenditure on health.
In The Gambia, a robust partnership is in place, uniting all key actors and stakeholders in malaria control to respond to challenges that no organization or government can face alone.
Read Other Articles In Article (Archive)