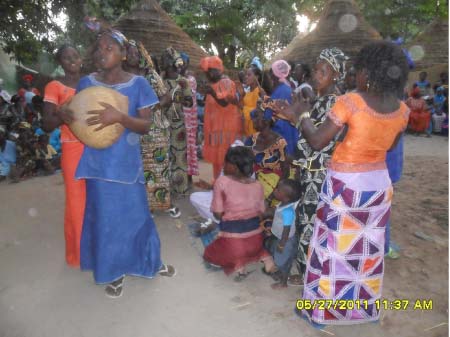 The sixth edition of Njawara Annual Cultural Festival 2011 was held at the weekend at Njawara Cultural Camp in Lower Badibou District of North Bank Region with eight cultural groups that performed.
Sponsored by the National Sports Council (NSC), the cultural festival witnessed performance by various ethnic cultural groups that performed between 5pm and 8pm, while the wrestling contest kicked off at 2:55am till 6am
Both the cultural groups and the wrestlers came from as far as Senegal.
Speaking shortly before the start of the wrestling contest, the executive secretary of the NSC, Mamudou Max Jallow, commended Njawara Cultural Camp and their youths for maintaining their culture.
Mr Jallow urged the youths of Njawara to always maintain peace and cooperate among themselves if they want to develop their village rapidly, adding that without the aforementioned, they would not be proud of their village.
He promised Njawara Cultural Camp and villagers that the NSC would continue to support them, while also calling on the youths of the village to go back to the land to engage in farming for their own benefit.
Ebou Njie, adviser to Njawara Cultural Camp who also doubles as the village PRO, said the purpose of organising the festival is to encourage more cooperation, understanding and respect among the youths of the village.
He commended the NSC for sponsoring the wrestling and part of the festival while thanking the Governor of North Bank Region, Edward Seckan, and Kerewan Area Council Chairman Tamba Kinteh for sponsoring the cultural part of the festival despite financial constraints.
Badara Jobe, officer-in-charge of Njawara Agricultural Training Centre, told the wrestlers and their fans to always maintain peace during the cultural festival.
He personally commended the youths of the village for their ability in organising the annual events without problems.
The cultural event was witnessed by the development officer of the NSC, Abdul Aziz Titao Mendy, while both ceremonies were chaired by the famous Amet Barry of Njawara village.
At the end of the cultural contest, prizes were given to the best wrestlers. The award for 1st position for the senior category went to Aranckes from Toroba who received also D1,500; runner-up Seri boy from Daru Yiriwan got D1,000; and the award for the third position went to Ninki-Nakanka with D500.
The award for the 1st position of the junior category went to Mbecho from Njawara with D1,000 cash prize, and a student attending Banjulinding Senior Secondary School from Foronkerr in Senegal took the runners-up award and a cash prize of D700; while the third position award went to Rew from Kuntango, Senegal, who also went home with D400.  
Read Other Articles In Article (Archive)