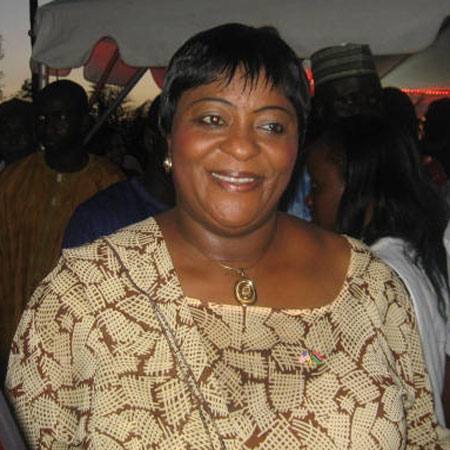 As part of celebrations marking 50 years of independence of the Federal Republic of Nigeria, the Nigeria High Commission in The Gambia, under the exemplary leadership of Her Excellency Mrs Esther John Audu (ORG), will stage a Golden Jubilee Football Tournament.
The 10-day tournament, expected to kick off on September 17, will bring together seven African community teams.
Speaking in an exclusive interview with newsmen on Monday in her Office along Garba Jahumpa Road, the Nigeria High Commissioner to The Gambia, Her Excellency Mrs Esther John Audu (ORG), revealed that the Golden Jubilee Football tournament is one of the lineup of activities earmarked to commemorate the 50 years of nationhood of Nigeria which falls on 1st October 2010 .
She pointed out African nations which have diplomatic missions in The Gambia namely Nigeria Community, Senegalese community, Sierra Leone community, Guinea Bissau community, Mauritania Community, Libya Arab Jamahiriya community and the Sports Journalists Association of The Gambia,  have been identified to participate in the Golden Jubilee Football tournament.
Mrs Audu added that a Golden Cup for a Golden Jubilee will be at stake for the winner of the tournament the final of which will be held on September 28.
She added that the objective of the football tournament is to further strengthen the already existing cordial relationship with their brothers and sisters from other African nations.
She revealed that they have already started receiving responses from invited teams such as the Sierra Leone community, the Nigerian Community, the Guinea Bissau community through their Embassies and the Sports Journalists Association of The Gambia while awaiting response from Senegal, Mauritania and Libya Arab Jamahiriya communities.
"We are also planning a big carnival to go around in Banjul and the Kombos on September 29 to showcase Nigeria's culture and tradition because we have this idea of cultural diversity in Nigeria with more than 200 languages. A day has also been set aside for a lecture on the topic: 'Nigeria at 50 and the Way Forward' at the Kairaba Beach Hotel on September 25 startingat 2pm. This will be followed at 5pm with a culture Night at the same venue," H. E. Mrs Audu disclosed.
Her Excellency  also added that on the D-Day on October 1, 2010  all Nigerian nationals and friends will converge at the Friendship Hotel in Bakau  from 10.00am to enjoy Nigerian dishes and dances and socialize with friends and loved ones.
"To wrap up our Golden Jubilee, the diplomatic reception is set for the evening where the Golden Cake will be cut at the honour of our great Nation, the Federal Republic of Nigeria," she added.
Mrs Audu pointed out that they are planning to produce a magazine which will focus on economic activities in Nigeria with the aim of attracting business investors into the country.
She finally called on Gambians and other Nationals residing in The Gambia to join them in celebrating the 50 years of success of the Federal Republic of Nigeria.
Read Other Articles In Article (Archive)