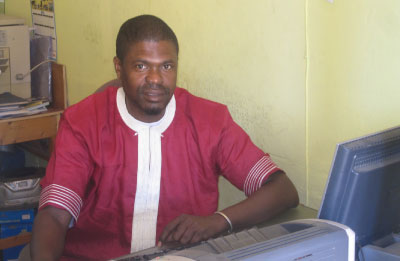 Eze  .P. Joseph, the Executive Director of Concept Units Foundation, commonly known as CUF a local NGO operating in The Gambia has said that NGOs and Civil Society Organizations are key development partners to any country's government within which they operate. ED Joseph, who also doubles as a community development worker made these remarks in an interview with The Point in his office along the Kairaba Avenue on Wednesday 27th March, 2013.
He indicated that NGOs are complementing government's efforts in bringing sustainable development for the Gambian populace, not only in the areas of health, education and agriculture, but also in acquiring life time skills to minimize youths and women unemployment in the country.
Noting that his organization CUF is committed to cultivating and nurturing an environment of peace and stability, backed by appropriate marketable and life skills to women, in particular to enable them have a new life to be self-reliant in his/her endeavors in life, he said, government recognizes the ultimate efforts of NGOs in supporting its MDGs development programme. He said it is a fact that no government can single-handedly carry out the development of a nation.
"This is precisely why the role and contribution of individuals, communities and groups, especially profession as and technically competent development organisations like NGOs are extremely crucial," he stated.
He went on further to state that his organization is always willing to work in partnership with their NGOs to compliment government efforts for the development and advancement of this country.
In his words: "We as NGOs organization have reached out to individuals and communities, often remote areas, who really need their help."
Highlighting some of the achievements rendered by CUF, Joseph said his NGO contributes to the development of many children, most of whom, he said have been able to go to school.
The NGOs, he went on, seek to also influence public policy, including legislation, in order to ensure that there exists favourable legal and policy environment that would engender individual, institutional, organizational and national development in all aspects.
These interventions by his NGO, he averred, have contributed immensely to the empowerment of women and girls, thus helping The Gambia in the attainment of the Millennium Development Goals and the national development blueprint, such as the PRSP (Poverty Reduction Strategy Paper). He envisaged that these interventions would be further scaled up in the wake of the new programme for Accelerated Growth and Employment (PAGE).
He commended the government of the day for creating positive legal framework and policy environment to enable the NGOs do their work in all parts of the country. "I appreciate and recognised the crucial role and contribution played by NGOs in the socio-economic and political development of The Gambia."
Read Other Articles In Article (Archive)