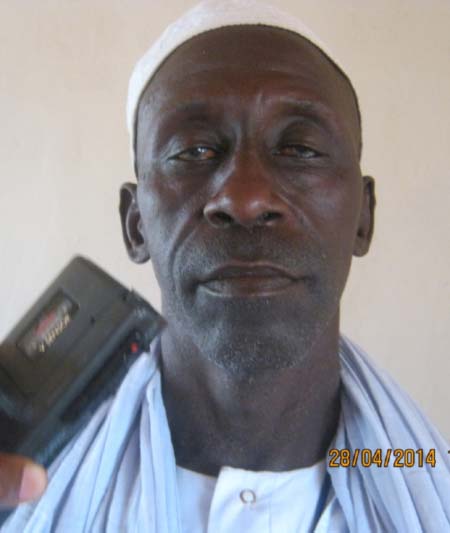 The newly appointed Chief of Nianija District in the Central River Region North, Faraba Jallow, a native of Palele village, had outlined his development priority in the Nianija district.
He expressed gratitude and appreciation to President Yahya Jammeh for appointing him as Chief of Nianija district and described his appointment as a big trust and confidence bestowed on him by the President of the Republic of The Gambia.
He said the trust bestowed on him would spur him the more to leave up to expectations and work hand in glove with his community in the best interest of the country.
The new chief was speaking in an interview with our reporter recently at Chamen Training and Seed Multiplication Centre after attending a daylong meeting organised by AUSAID project under the National Agricultural Research Institute (NARI).
Chief Jallow assured the President that as the chief of Nianija, he would work within the confines of the law of the country to ensure there is more unification in his district and would urge his people to redouble their effort and be more committed to rice cultivation in particular.
According to Chief Jallow, prior to his appointment, he was the district chairman in Chamen Nianija for the past 20 years and since then he had a longstanding trust by the President due to his devotion and commitment to the APRC party.
He urged the people of Nianija to be united and work for national development, adding that with commitment and hard work, by 2016 the people of Nianija district would not go out of their district in search of rice.
He added that he was willing to work with anybody in the interest of the country and urged the people of Nianija to redouble their effort and be more committed to national development.
The new chief further stressed the need for his people to be more devoted to the ideas of the APRC party, which he said was the only party that could move the country forward.
He went further to advise the people of Nianija to be law-abiding and be committed to agricultural development in the country, noting that Nianija district was known to be a household name in rice cultivation in the country.
He said the spirit of national development should be continued by the people of Nianija to ensure Nianija district community redouble their effort at rice cultivation to improve food security in the country. 
Read Other Articles In Article (Archive)