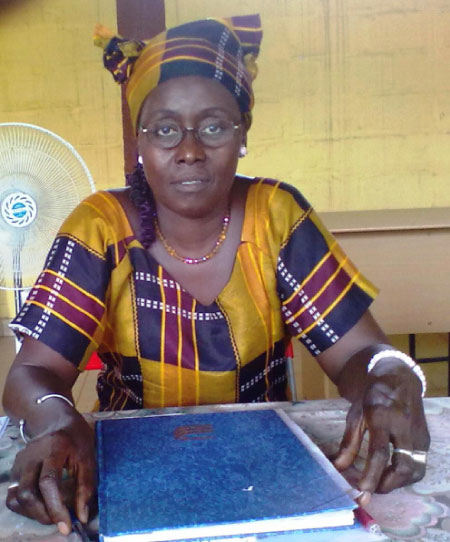 The newly elected chairperson of the Gambia Federation of the Disabled (GFD), Isatou Sanyang, recently granted an interview to The Point on her plans as well as organization's successes and challenges.
She confirmed she was elected as the chairperson of the Gambia Federation of the Disabled and was elected during their congress held on 23 - 24 June 2012.
 Isatou is a staff of The Gambia Association of the Deaf and Hard of Hearing (GADOH) where she works as women's development officer.
"GFD is an umbrella organization that brought all disable organizations together in a bid to advocate in promoting the rights and equal participation with the person of disabilities," she indicated.
She noted that she was part of the board members for five years prior to being elected as the chairperson of the association.
The newly elected chairperson revealed that some of her objectives are to work hard in collaboration with various organizations of the disabled, NGOs, the Government in promoting the rights of persons with disabilities.
"I hope to continue advocating and lobbying to improve the living condition of the disabled and to provide them with skills training and incoming generation activities among others," she said.
 "I stood for the position of the umbrella body to create brighter future in bringing disabled people together, especially women and children, and to work hard for the betterment of the GFD."
She said she was the first female president of the association and expressed delight at the achievement, saying she was optimistic her own achievements will inspire other disabled women and girls to follow her footsteps.
However, the GFD chair said some of the challenges they are faced with is because there is no national disability law and that the Gambia government is also yet to sign the UN convention on rights of the disabled. 
With this instrument not in place their rights are not guaranteed, she said, adding that these laws will one day be fulfilled.
According to her, the negative and traditional attitude of society about disabled people is also a cause for concern.
"Discrimination starts at home; people with disability should be given full participation and support. Family must change their attitude and if that is done outside people will recognise their participation," she emphasised.
In the past, she indicated that the GFD has registered tremendous achievement, noting that they have been working with the VSO to change lives of the disabled by providing training to organizations of the disabled among others.
She adduced that their election was witnessed by the IEC who also expressed delight over its democratic process.
He called on the disabled in exclusion and discrimination to come out and join them to work for their betterment.
She appealed to the government to sign the UN convention as well put national disability act in place for them to contribute effectively to the socio-economic development of The Gambia.
Read Other Articles In Article (Archive)