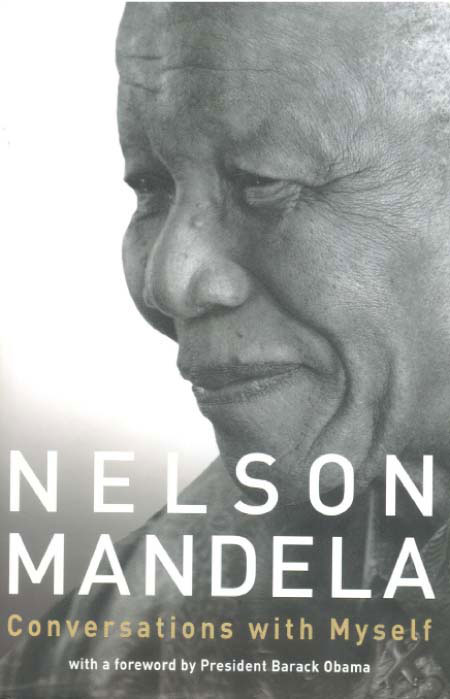 Nelson Mandela: In Conversation with Myself, PanMacmillan, 2011, p.454 .
US President Barack Obama wrote the foreward to this new book by Nelson Mandela. This new book gives readers access to the private man behind the big aura public figure we fondly call Nelson Mandela. The book reproduces his private letters while in prison, diaries, musings, memos as President from 1994-1999 and other scribbling which show the human Mandela, the ordinary mortal. There is a big differences between this book and the previous autobiographies like Long Walk to Freedom, 1994, and the countless other  biographies of this arch freedom fighter and icon of human forgiveness.
In this book, Mandela appears just the normal prisoner, normal family man, normal President and so on. The human bouts of despair, sadness, elation that we all go through as normal human beings with blood and flesh, are evident in this book. As President Obama says in the foreward, to many people, Mandela was more than just a man- he was a symbol of the struggle for justice, equality and dignity in South Africa and the whole world. This has catapulted him into the status of a super human, such that many people think him as infallible and similar deification. In this book, Mandela tries to rupture this mentality; in his modesty, he tells in his letters and other scriblings that in fact, he is only human and makes and has made mistakes. Also, the books shows that Mandela listened to wisdom and advice from his people. He did not abuse his hero status to be arrogant. For example, when he wanted the voting age reduced to 15 years, his inner circle objected, and Mandela was forced to shelf the idea.
This book has a historical import. It has a rich glossary which depicts the bio sketches of great men and women of the anti-apartheid struggle such as Govan Mbeki, Oliver Tambo, Albertina Sisulu and many more. These short bios give a good outline of the struggle of these great men and women without whose sacrifice, the shameful apartheid would still be alive.
The book is a useful compendium not only on Mandela, but on the whole history of the glorious struggle against racist rule in South Africa. It is an intimate journey through the rich tapestry of the Mandela icon; this book is a 'rare chance to spend time with Mandela, the man, in his own voice'.
This is a book you should read.
Available at Timbooktoo.
Read Other Articles In Article (Archive)