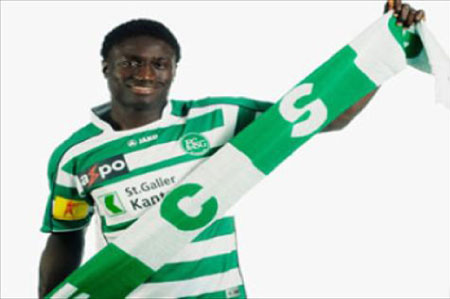 The Nda and Mariam Jagne Family Foundation is a registered non-profit NGO established by the Gambian international footballer Pa Modou Jagne, alias Nda, and his wife Mariam Jagne, to contribute to The Gambia's health sector focusing on maternal health and on strong educational foundation for children.
The Foundation, which is also out to develop the youth through football clinics, on 14 December 2012 held a press briefing at the Paradise Suites Hotel in Senegambia.
Speaking at the press briefing, the founder of the Nda and Mariam Family Foundation, Pa Modou Jagne, alias Nda, said the aim of the foundation is to support maternal health in The Gambia focusing on equipment and infrastructural support and raising awareness, especially within marginalised communities.
He added that statistics have shown that maternal mortality rates are higher in rural communities than in the urban area.
Jagne added that maternal mortality is the leading cause of death for girls aged 15 to 19 in the developing countries. Girls aged between 15 and 20, he also said, are twice as likely to die in childbirth. 
He said the foundation will promote safer sex, relaying sexual debut and building assertiveness skills of young people, particularly girls.
The foundation will also support in nurturing young football talents in the country, he said, while laying emphasis on the importance of education for athletes. 
It is becoming increasingly apparently that football is a career that young people can pursue and many Gambian children will have a dream of playing professional football in some of the major leagues in Europe, Africa and the America, Jagne noted.
Mariam Jagne, wife of Pa Modou Jagne Nda, said the foundation was registered on 11 October 2012 and will be launched on Friday 21December 2012 at the Paradise Suites Hotel.
As part of the same programme,  the foundation will also organize football clinic on Saturday 22 December 2012 at the Father Gough Sports Complex in Manjai Kunda.
According to Mrs Jagne, they will work closely with the Ministry of Health and Social Welfare and will start their projects with Essau and Brikama Health Centre.
Sanna Sarr, member of the foundation, also spoke at the meeting.
Read Other Articles In Article (Archive)