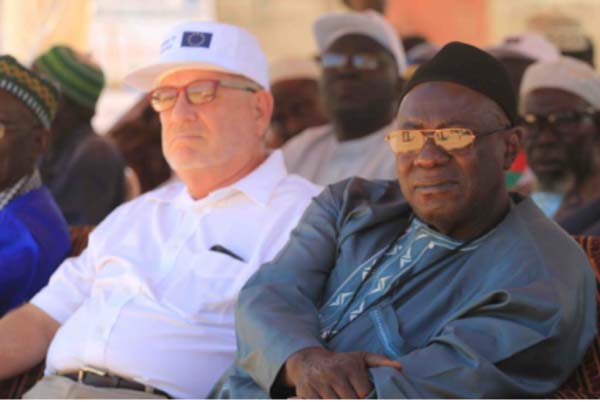 The National Council for Civic Education (NCCE) on 11 April 2016 held a face-to-face meeting with the community of Kwinella in Kiang Central to sensitize them on the values of human rights and the content of the Women's Act 2010.
The event was part of a series of activities being implemented under the Access to Justice Project, which is funded by the European Union (EU), and currently being implemented by Eurecna Spa, in collaboration with local stakeholders such as NCCE, NALA, Female Lawyers' Association of the Gambia (FLAG) and ADRS.
The project targets Brikama in the West Coast Region (WCR), Kiang Kwinella in the Lower River Region (LRR) and Sandu Kuraw in the Upper River Region (URR) to ensure such communities are well informed about their legal and civic rights and accessibility.
Demba Sanyang, Chief of Kiang Central, in his welcoming remarks, said he was privileged to host the Access to Justice Project in his community.
He added that the project is important since it is educating people on their legal and civic rights.
Yusupha Bojang, NCCE Programme Officer, said the aim of the project is to ensure that legal and civic education reached the communities, adding that it has been realised that rights are known to some but accessibility remained a challenge.
Kebba O. Jobe, NCCE Civic Education Officer, in making a presentation on fundamental human rights, said human rights are there to ensure everyone lives in peace, liberty and dignity.
Mr Jobe said that according to The Gambia's constitution, any person arrested should be told in 3 hours after his arrest why he is arrested and must access a legal representative.
He added that in accordance with the laws of The Gambia, no person shall be detained beyond 72 hours, meaning he or she should be released conditionally or otherwise or be taken to a competent court of law.
Amie Jobe of FLAG, in her presentation on marriage and family as well as Women Act 2010, said protection of women in the eye of the law is a priority to her office.
Read Other Articles In Article (Archive)