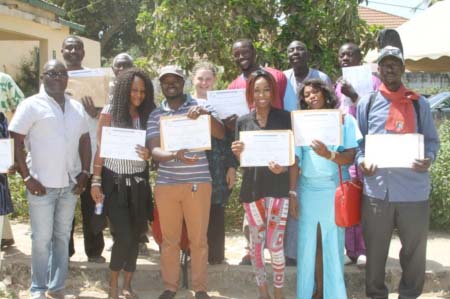 The National Centre for Arts and Culture (NCAC) on Saturday certified 13 young Gambian artistes and instrumentalists after completing a three-day workshop at the NCAC mango tree office in Fajara.
The training on traditional music of The Gambia brought together musicians who sing different kinds of music to learn to promote and preserve the Gambian culture and tradition.
Speaking at the closing ceremony, Director of Cultural Heritage at NCAC Hassoum Ceesay said the training involved working with Gambian musicians who are young and are already recording, so that they will sort of experiment incorporating traditional Gambian instruments in their music.
"The objective is to have distinctive Gambian music which will be like a signature for the country's music; if anybody comes across it, the person will immediately conclude that this is a Gambian music," he said.
Mr Ceesay noted that there are very talented musicians who are doing very well but unfortunately they usually resort to the use of westernised music.
He said the use of such westernised music is not bad as it shows that it is indeed possible to have Gambian musical instrument back in the music of Gambian musicians.
He said during the three days training, the young musicians have done very well.
"They have been corporative and keen in learning, the training have been very fraternal and I am very impressed; musicians are the best kind of people and easy to deal with," Mr Ceesay said.
He noted that with such trainings, Gambian music will reach higher heights.
"This training is very important because it helps the musicians to make further research in their music from the archive which will help them to know more and sing about Kabu, Foday Sillah, Musa Molloh and so on," he said.
Siaka Fadera, senior research and documentation officer at NCAC, said it is vital to bring the musicians on board so that The Gambia can have an identity in terms of music that shows the tradition and culture of the country.
The training, he said, is to help the beneficiary musicians to have a broader understanding of the traditions and cultures of the country to be able to produce a specific tuning.
"Every country in the world has its own tuning that is identical to that particular country so this training is to encourage the musicians to use the traditional tuning in their compositions," Mr Fadera said.
"Our tuning must have an identity that represents The Gambia, for example mbalax is virtually Senegal, reggae is for Jamaica, we are not calling the countries names but tuning which is identifying that particular country," he said."We also want to have that Gambian identity."
Kajsa Dahlstrom, archive researcher from the Center for Swedish Folk Music, said The Gambia is full of young talented musicians who need to be supported to promote the Gambian culture.
She encouraged the young musicians to "keep up the good work" and make best use of the knowledge gained from the three-day training.
Read Other Articles In Article (Archive)