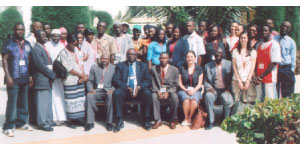 The Gambia YMCA on Tuesday 22 March 2011 organised a day-long national micro-finance consultative forum at the Paradise Suit Hotel in Kololi.
The theme of the forum, "identifying the gaps… what works with youth in micro-finance" brought together policy makers, youth leaders, and media among others.
According to organizers, the forum aimed to discuss the ways of developing the full potential of young people by creating opportunities for their position in participating in national development.
It also seeks to create a platform for dialogue, and to have in-depth information on the problems of young people in accessing loans so as to share possible ideas in trying to solve them.
Speaking at the forum, Joseph Peacock, project coordinator YMCA, reveals that over the years the Gambia YMCA has championed a holistic approach on youth enterprise justice with particular emphasis on micro-finance support for the youth to start a medium enterprise in their regions across the country.
"The Gambia is a small poor developing country of its population youthful it is not therefore surprising that poverty is physically evident coupled with the fact that the country's economy has been affected by a variety of economic problems," Peacock said.
He said the YMCA BLF funded project has made strategic interventions in supporting marginalized and disadvantaged youth to undergo vocational skills training in other to turn the tide of growing youth unemployment.
Mr Peacock made a clarion call that funds should be giving to youth organizations and youth NGOs to operate youth friendly micro-finance schemes that will build and propel new generation of Gambia entrepreneurs.
In his opening remarks, Suttay Jaiwo, Deputy Director Youths and Sports, reminded the gathering of the long stands YMCA have in youth development.
"A micro-finance service is very important tool in youth development," he admitted.  
He said that the government of the Gambia is strengthening a vision and therefore is accelerating its development, adding that 108 young people benefited from the short life span of NEDI project. He expressed gratitude to the YMCA in complementing government efforts.
He also calls on the private sector to support the youth, urging them to come up with reasonable interest rate.
Speaking earlier, Oreme Joiner, National Board Chairman of the YMCA, indicated that the YMCA has established an independent micro-finance committee to realize this objective of empowering the youths through micro-finance and to access funds.
"YMCA will continue to pursue an alternative in creating and strengthening activities that are geared towards addressing the challenges of our youths," he said.
Sarah Fowler, Y-Care International Programme Coordinator, commended YMCA for their good work while assuring them of their continued partnership with the BLF funding to help young people and create opportunity for them to have access to micro-finance.
Read Other Articles In Article (Archive)