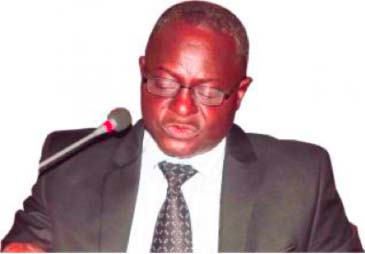 Karamba Touray, the Auditor General at the National Audit Office, Wednesday presented the national audit report of the Auditor General to the joint session of the Public Accounts Committee and Public Enterprises Committee (PAC/PEC) of the National Assembly.
In his presentation, Karamba Touray told the Assembly joint committees' session that the report was a compilation of significant findings that came to the attention of the National Audit Office during the audit exercise.
He said it was designed to bring to the attention of the National Assembly those matters arising out of the audits, "which are considered to be significant and have not been adequately addressed" or "not addressed at all".
According to AG Touray, the National Audit Office was established by the constitution of The Gambia, adding that the constitution also described in greater detail the role of the Auditor General and National Audit Office.
"As Auditor General, my main responsibility is to conduct financial and regularity audits and economy, efficiency and effectiveness audits otherwise known as value for money or performance audits of public revenue and expenditure," he said.
"It is important to note that whilst financial and regularity audits focus mainly on conformity of administrative action with the law, the budget and other relevant accounting, financial and administrative regulation, economy, efficiency and effectiveness audits go beyond judgments of compliance and accuracy to also evaluate performance and the value for money obtained through government transactions."
Mr Touray said the past decade had seen a seismic shift toward performance audit in Africa.
Touray informed the Assembly's joint committees' session that the 1997 constitution had significantly extended the scope of his powers and, in particular, required him to pre-audit all expenditure borne on the consolidated or other public funds, a task currently undertaken by staff in the Ministry of Finance and Economic Affairs.
"Section 160 (1) and (b) of the automation of government financial transactions has rendered this aspect of my function redundant," he said.
Dilating on the audit process, Touray noted that each year, "programmes are prepared" specifying the audit work to be carried out during the year.
"Audits are conducted in a manner that endeavours to display the highest degree of objectivity, accuracy and compliance with professional standards," he continued.
"As part of the audit process, my staff carry out inspection visits to ministries, departments and other public bodies all over the country," he said, adding that these visits were as frequent as staff logistics and financial resources would allow.
Read Other Articles In Article (Archive)