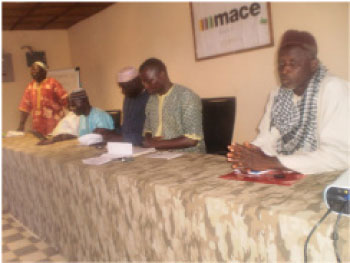 The National Agricultural Research Institute NARI, in collaboration with the regional agricultural directorate of Kerewan on Friday held a daylong policy dialogue with farmers on maize value chain development, through Dissemination of New Agricultural Technologies in Africa (DONATA) platform.
Kemo Jabbie Gassama of the Governor Office commended NARI for complementing government efforts in her food security drive.
He called on farmers and district chiefs to disseminate the information on best practices of maize production and processing.
Speaking at the occasion, Dr. Saikou E. Sanyang, Regional Agricultural Director for North Bank Region, underscored the importance the Department of Agriculture attaches to the enhancement of farmers' capacity to the adoption of new innovation technology of enhancing food availability and poverty reduction.
Dr. Sanyang lauded the efforts of farmers in the region in the diversification of food production and productivity.
For his part, Ansumana K Jarju, the Principal Research Officer of NARI spoke well of the participation and commitment of farmers in maize production and adoption of new innovation technologies towards attaining food security. He said maize production, processing and marketing are crucial in the attainment of food security.
Commenting on the achievements, he said, production has increased from 1.5 ton to 3 tons per hectare, through promoting integrated approach of learning of best practices in maize production. The innovation policy dialogue, aimed at consolidating the gain registered in the project implementation and to ensure that farmers work hand-in-glove in promoting food value chain in maize production. He hailed farmers for increasing maize production.
Chief Jimfatma Jobe of Jokadou, who happens to be a farmer, said the project has built the capacity of farmers in adopting new technology in maize production. He lauded NARI and DONATA project for encouraging large-scale production of maize. He said the involvement of traders and processors has contributed to the marketing of maize.
The President of Maize Growers Association, Kebba Sowe of Kerr Banno of Lower Baddibu lauded the support of farmers, regional agricultural directorate and Njawara Agricultural Training Centre for their support in the diversification of food production and poverty reduction.
He said the project has empowered farmers to increase maize production on a large-scale, with the ultimate objective of contributing to food security and sustainable livelihood.
Read Other Articles In Article (Archive)