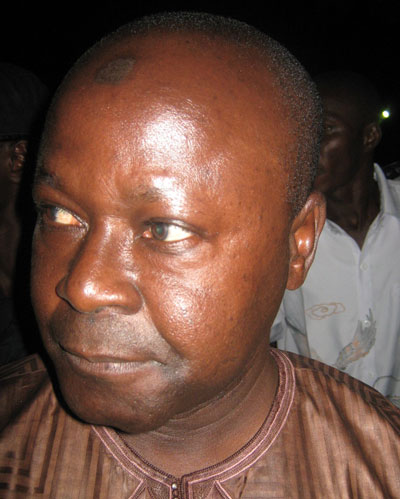 Amie Njie, a narcotics officer, on Friday testified before Justice Emmanuel Amadi of the High Court in Banjul in the ongoing trial involving Ibrahim Bun Sanneh, former Executive Director of the National Drug Enforcement Agency (NDEA), and four others.
The other accused persons are Karamo Bojang, former Deputy Executive Director of NDEA, Ousman Sanneh, former NDEA Director of Operations, Seedy Bojang, former NDEA Accountant, and Ms Marie Sanneh.
Amie Njie, who testified as the seventh prosecution witness, told the court that she was enlisted in the drug squad on 1st January 2008.
According to her, she knew Maimuna Jallow, the wife of Ousman Jatta, whom she said is her close friend, and she also knew the second accused, Karamo Bojang and his wife Mama Darboe.
"In 2008, one Ousman Jatta asked me whether I know Karamo Bojang, the 2nd accused person, and I replied in the affirmative," she told the court.
She disclosed that Ousman Jatta once told her to accompany him to the residence of the second accused, Karamo Bojang, at Sanyang village, because he wanted to adopt Karamo as a big brother. The narcotics officer further told the court that Ousman Jatta later bought colanuts, and they proceeded to Sanyang village.
"Upon our arrival at Sanyang village, we explained our mission to Karamo, and he indeed accepted it in good faith, and took the colanuts we handed over to him," she added.
The witness further alleged that, at the end of 2009, Ousman Jatta gave her one bag of rice and one 20 liter gallon of cooking oil to take to Karamo at his residence in Sanyang village, which she did. She told the court that the 2nd accused accepted it.
PW7 further added that in the same 2009, while she was in Serrekunda, she saw Ousman Jatta and asked him where he was going to and, in reply, Jatta told her that he was going to Karamo's residence at Sanyang village.
She adduced that she told Ousman that they should go together, since she also wanted to see Mama Darboe, wife of the 2nd accused person. Ms Njie added that when she got into the vehicle, she saw a dark plastic bag with Ousman Jatta.
When asked by the DDPP M. Abdullahi whether she knew the contents of the bag, the witness told the court that, when she asked Ousman Jatta about the contents of the bag, Ousman told her that the bag was containing money.
"I have not seen the money, and I did not know the amount," the witness told the court.
Defence counsel, Pap Cheyassin Ousman Secka, strongly objected to the statement made by the witness, and submitted that the witness was saying what she was told by Ousman, which according to him has a prejudicial effect.
DDPP Abdullahi in response argued that the piece of evidence adduced by PW7 was admissible, and cited section 19B of the Evidence Act.
Subsequently, the defence objection was overruled, and the witness continued to testify. She further told the court that she and Ousman Jatta later went to Karamo's residence at Sanyang village.
"We met Karamo Bojang in his compound, but I went straight to Karamo's wife in the house, and left Ousman Jatta and the 2nd accused outside the house," PW7 revealed, adding that she was later called by Ousman Jatta, and they left for Serrekunda.
Under cross-examination by defence counsel Kebba Sanyang, the witness told the court that she did not know that Ousman Jatta was dealing in drugs.
When asked whether she knew that Ousman Jatta was arrested a week ago for drug-related offences, and that this was announced on GRTS, the witness said she was not aware of this, because she was not in town. She also said that she had not seen Ousman Jatta coming down with the alleged money from the vehicle.
The eight prosecution witness was Dodou Jatta , who also testified, and told the court that he is a Red Cross volunteer, who lives at Lamin village.
He explained that Kelepha Jatta is his father while Babucarr Jatta is his brother, and that he could recognised Marie Sanneh, the fourth accused person.
"In 2008, my brother was arrested with cannabis and taken to the National Drug Enforcement Agency office in Banjul," he disclosed.
"My father went to Banjul to see Marie purposely for her to contact the 1st accused, Ibrahim Bun Sanneh, so that we could all go to the office for plea bargaining," the witness further said.
According to the witness, his father told him that he has seen with Marie, and Marie said she had spoken to the 1st accused.
He added that his father called Marie, and gave her D100,000 for the payment in connection with the plea bargaining, adding that he later left with Marie from Lamin village to the NDEA office in Banjul.
"Upon arrival at the NDEA office in Banjul, Marie told me to sit and wait for her so that she could go and contact her father," he added.
Marie, he continued, came back and informed him that her father said the money should be taken to the NDEA office responsible for money, which they did, adding that after paying the money, he was issued with a receipt, which he took to his father.
Testifying further, PW8 told the court that one month later, his father again called Marie and gave her D50,000 as the remaining balance.
"I left with Marie to the NDEA office in Banjul, and upon our arrival, Marie asked me to sit outside and wait for her, so as to contact her father Ibrahim Bun Sanneh, the first accused," PW8 added.
"Marie was inside for about thirty minutes, and when she came out, she told me she has paid the money, and she will later bring the receipt, and I later left," the witness said.
Asked by defence counsel Kebba Sanyang, under cross-examination, whether he has seen the 1st accused, the witness responded: "I have never seen the 1st accused during that process."   
The case was at that juncture adjourned to 2nd November 2010 for continuation of cross-examination. 
Bun Sanneh and his co-accused persons, all of whom pleaded not guilty, are facing a 30-count charge ranging from conspiracy to commit felony, stealing by person in public service, aiding and abetting, unlawfully possession of fire arm, unlawfully possession of live ammunitions, concealment and destroying of evidence, official corruption, to abuse of office and committing economic crimes, obtaining money by false pretence, making document without authority and forgery.  
Read Other Articles In Article (Archive)