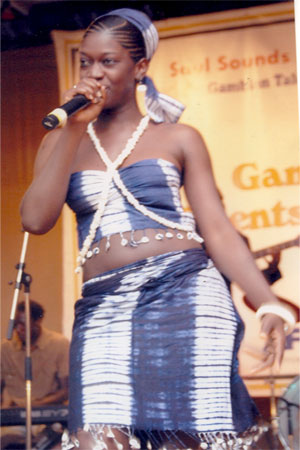 Her name rings a bell. She has once again become a regular feature in public discourse and her name continues to be in the history books as far as the Gambian Music is concern.
Nancy Nanz released her newest album on 22nd July 2010, as part of activities marking the celebration of 22nd July.
The album which contains nine tracks is entitled "As I Come Back". With its lyrical power and high production quality, the album comes in CD format is available on sale in the market.
In a chat with Entertainment on Wednesday at her residence, Nancy Nanz said she was away for almost two years, working on her album. The album is the outcome of two years of toiling. The young female musician added that this was her second album, and is not only about entertainment but she is also sending a message to the people. According to her, the album contains a very important message, as in the track called "Sena Muso".
The young Banjul musician released her first album in 2007, which was sponsored by the Gambian leader and the national GSM company, Gamcel. There is a lot of experience I got from my first album, she explained. She also released two singles, which include songs in the AU and the Election compilations.
Nancy Nanz went on to thank her fans for buying the new album, and said the album will be launched immediately after the Ramadan.
Commenting on the music industry in The Gambia, the Banjul-born promising musician called on people to support Gambian music in all aspects, emphasising that Gambian music is presently dominated by Senegalese music in the market. Nancy also called for a change of attitude among musicians, noting that is the only way we can develop the country's music and take it to higher heights.
"During my visit to Germany, I met with different music producers and we discussed ways and means of promoting Gambian music. I definitely thank the Gambian leader for giving me a hand of support for the launching of my first album." She also expressed gratitude to Gamcel for making the album a success.
Read Other Articles In Article (Archive)