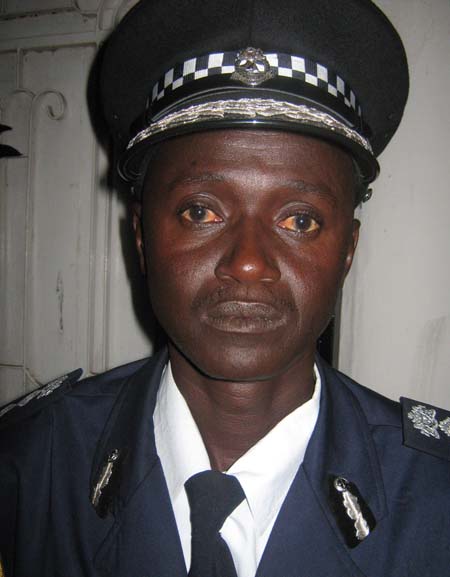 The former police chief, Ensa Badjie, yesterday opened his defence in the abuse of office trial against him at the Banjul Magistrates' Court before acting-Principal Magistrate Taiwo Ade Alagba.
In his defence, ex-IGP Badjie told the court that he is currently detained at Mile 2 Central Prison following allegations made against him.
"Sometime in 2008 towards the 2009 New Year day, which is normally celebrated by many Gambians, as a result I gave instructions for the police officers to be deployed to all the junctions in order to avoid accidents," he said.
"Upon those instructions, some police officers were deployed to the Tourism Development Area (TDA) at Palma Rima Junction. One officer Camara, who was deployed there, happened to catch a traffic offender at Palma Rima Hotel Junction called Ousman Jammeh alias 'Baka'," he added.
Ousman Jammeh, alias 'Baka' later called him on his mobile phone, Ensa Badjie continued, and informed him that he had a problem with the police officers, and now they were going to the military base.
"Baka told me that he needed my assistance in the presence of my family and two other friends of mine. I told 'Baka' categorically clear that it was not my business to sort him out with them; they are human beings like you. I do not want to interfere in their job," Ensa Badjie told the court in his defence.
He pointed out that during the struggle to take 'Baka' to the military base at Senegambia,  ex- Captain Fatty seriously assaulted officer Camara, which led him to sustain very serious injuries on his hand.
"I later spoke to Mr.Fatty on the phone, that this was a traffic matter and the army had nothing to do with traffic matters, but Mr. Fatty insisted that it was in the Tourism Development Areas (TDA) which is part of their area," Badjie further said.
He added that he later took the officer to Kotu Police Station to lodge a complaint, and statements were obtained from him, as well as officer Camara, who was later referred to the Royal Victoria Teaching Hospital (RVTH).
He revealed that a case file was later prepared by the officers at the Kotu Police Station, and handed over to the then commissioner of traffic, against Mr. Fatty for assaulting a police officer in the due execution of his national duty.
Ensa Badjie further stated that the case file was later sent to the office of the Inspector General of Police, and it was forwarded to the Minister of the Interior to know what had transpired between the police officers and ex-Captain Fatty. 
"In 2009, Mr. Fatty was sacked from the Gambia National Army and, after his sacking, I ordered for his arrest and charged him for assaulting a police officer in the due execution of his national duty.
"In early 2010, I was arrested, when I was the Inspector General of Police and taken to Mile 2 Central Prison for three good months without trial.  After eleven (11) months of my detention, one day I saw a panel in front of me comprising officers," Badjie told the court.
He added that he was informed by the same panel that Mr. Fatty was arrested, and they needed to obtain a cautionary statement and witness statement from him (Badjie), which he agreed to.
"The allegations against me were false, not true," he concluded.
The case was then adjourned till 8 July 2011, for cross-examination.
Read Other Articles In Article (Archive)