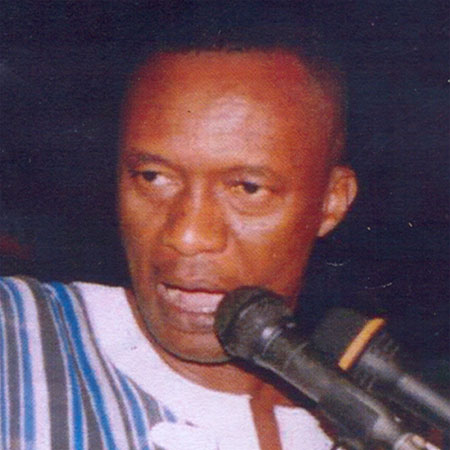 Members of the Muslim community both in and outside The Gambia, notably in the Casamance region, have lauded Modou Turo Darboe, the Faji-kunda-based business tycoon cum philanthropists for his benevolent gestures, especially during the past Ramadan.
As the chief executive officer of Vision Development Foundation (VDF), a charitable non-governmental organisation, Darboe has over the years rendered support to the poor and needy through his foundation, especially during feasts like Tobaski, Koriteh and Ramadan, among others.
Speaker after speaker who spoke to The Point during a recent sugar and meat distribution exercise held at the VDF office at Churchill's Town commended Turo Darboe for his generosity. One Ma Kaddy Gassama, a 45 year old woman, a beneficiary, hailed Turo Darboe for coming to the aid of Muslims during Ramadan.
Noting that the gesture has alleviated most of their needs, Gassama said this is expected of good Muslims, especially those with the means to help the poor and needy, particularly during Ramadan.
Mamadou Jallow, a Guinean, said during Ramadan, feeding for certain people is always a problem, but with the intervention of Vision Development Foundation, many people had an enjoyable Ramadan.
This, he said, has shown that Turo Darboe has great concern for the welfare of the poor and the needy, and prayed for the NGO's continuing support at all times.
Jallow used the opportunity to call on Muslims who can afford it, and are in a better position to do so, to always consider those in need.
"Looking at the number of people who were receiving daily meals from Turo during the Ramadan, one would, no doubt, describe the gesture as a benevolent one," he said, adding that it will all help in reducing poverty.
Momodou Malta Jallow, national coordinator for Vision Development Foundation, said one of the main objectives of the foundation is to complement the efforts of the government, noting that they seek to alleviate poverty.
According to him, CEO Darboe has over the years been rendering services to humanity through his foundation.
"This is a man who believes in sharing and caring with Muslims," Jallow said.
While calling on all and sundry, especially other NGOs and CBOs to emulate Darboe's footsteps, Jallow said helping Muslims should not only be left in the hands of the government, but the NGOs also have a role to play in complementing the government's efforts.
According to him, NGOs should always look at areas that government does not touch, and try to fill those gaps for the benefit of all Gambians.
Among its areas of intervention, Jallow said are health, education, technical know-how and the rehabilitation of mosques both within The Gambia and in the Casamance region of Senegal.
He added that the VDF have also embarked on projects like boreholes for Gambian communities.
"We have also embarked on empowering women to acquire skills and building the capacity of youths through training," he further stated.
Jallow also revealed that through the VDF, Turo Darboe is currently sponsoring over 20 students who are all attending tertiary institutions, while every year over 50 students at the senior secondary school level have their school fees paid by the foundation.
All these, he said, is done free of charge, noting that it is all part of being humane.
"Also in 2012, the VDF trained over 30 youths on entrepreneurship and at the end of the training, each youth went home with twenty thousand dalasis as a loan so that they can establish their own business," adding that the loan was interest-free.
Darboe's generosity, he added, will continue as he (Darboe) has inherited such benevolence and generosity from his father.
Contacted for comments, Modou Turo Darboe declined to comment, but was quick to say that all that he is doing is out of belief in service to humanity, which he inherited from his late father.
According to him, as long as there is life, he will continue to serve humanity.
He called on other NGOs to be supporting the poor and needy, so that together they can complement the efforts of the government in alleviating poverty in the country. 
Read Other Articles In Article (Archive)