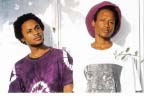 Two music producers, Hakim Abdulsamad and Bilal, are currently in the country to produce music as well as to create a lot of hit songs.
The two have created classic music and have also written hit songs for Akon and Youssou Ndour.
In a chat with Entertainment recently at Sunland Music Studio in Brufut opposite the Sheraton Hotel, Hakim said 90 per cent of Viviane's songs are created by him and his brother, adding that he had also written hit songs for Akon and Youssou Ndour as well as successful international Gambian artistes including Mame Balla, Rebelion, and Singateh.
"We have also produced many top artistes in Sierra Leone and Nigeria. We could be called African music producers. My brother will be here in one week's time," he told PointEntertainment.
The experienced music producer added that he has come back purposely to focus on music development in Africa.
He said they would do everything possible to work with many artistes, while calling on the government, individuals and companies to support them to develop Gambian music.
Hakim made mention of E. Nyassi mbalax or (RnB), Benjamin (Reggae artiste), Miss Ma (female Mandinka singer), Mariam (mbalax or RnB), Tornado (Nigerian based in The Gambia), Big Sey (dancehall), Southern Twins (dancehall group) and many more to come.
He thanked Olli Taal who brought them to The Gambia in 1999 for the Roots festival.
"Basically we are very grateful to Olli Taal and her father," he said, calling on people, especially artistes, to visit Sunland Music Recording Studio.
Hakim can be reached on 7337000 or 7633242.
Read Other Articles In Article (Archive)