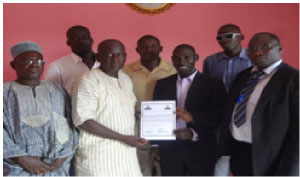 The Chief Executive Officer of Munduk Trading Enterprise Limited, Lamin Barrow, was on Wednesday awarded a certificate of appreciation in recognition of his contribution towards the ongoing youth development programmes in Wellingara, Kombo North.
The presentation of the certificate to Mr Barrow was made by the Wellingara Youth Development Association (WYDA).
According to WYDA officials, Mr Barrow's generous assistance to the association has boosted their efforts. Thus, he was commended by the community of Wellingara and the youths for his timely intervention.
Speaking at the award presentation held at his office, the secretary general of WYDA, Abdoulie Ceesay, expressed delight on behalf of his group to Mr Barrow for supporting them.
He added that Barrow's personal assistance has shown that the businessman has a great concern for the welfare of Gambian youths.
"The purpose of this certificate is to recognize your effort towards the development of youths in the country, particularly those in Wellingara," he said.
The chairman of WYDA, Karafa Jobarteh, told the gathering that they recognized the efforts of Barrow in the development of their community.
According to him, many elders were not surprised, in the sense that they knew Mr Barrow as a very generous person who has the country at heart.
He said as a result of this, they were delighted to present a certificate of appreciation for his personal support to the community, especially towards the ongoing sports development activities in Wellingara.
He also said his personal support has gone a long way in developing the talents, skills and capacity of the very vulnerable but talented young persons in their society.
In receiving the certificate, Mr Barrow thanked the members of WYDA for the honour.
He said that the award came to him as a big surprise, and thanked the group for the gesture.
He also told the gathering that his objective is to support Gambian youths not, only in the sector of the re-export trade, but in other areas.
Lamin Barrow, who also doubles as the chairman of the association of Wood Re-exporters and Forest Users in The Gambia assured the youth of Welligara of his continued collaboration and support.
He said that he is always ready to support the youths where necessary, since they are the future generation of the country.
"Therefore, helping the youths means developing the Gambian economy," he added. Mr Barrow advised youths to distance themselves from drugs and alcohol abuse.
Read Other Articles In Article (Archive)