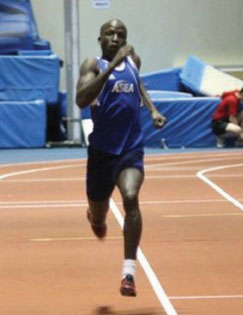 Former Gambia Athletics Association hot prospect Momodou Lamin Kujabi on Saturday registered yet another remarkable achievement in the World Tract and Field Athletics Championship in Canada, Pointsport can confirm.
The 17-year-old Gambian international athlete, who decided to stay put in Canada after taking part in the World Junior Athletics Championship in 2010, continued to make the best use of his Canada abscond after strings of world-class athletics championship performances saw the young man make remarkable progress in various championships to date.
Kujabi's latest performance was hugely described in his Canadian club's website as amazing as he brilliantly emerged winner of the 200m men's heat competition completing the race at an impressive timing of 22.86 seconds few seconds ahead of his closest rival Drammeh Foday of Guinea Bissau during the two-day tract and field athletics championship in Canada at the weekend.
The Canadian-based Gambian prolonged his weekend athletics championship successes with another exciting performance after he finished the 400m race at an amazing timing of 49.84 seconds with Michael Camble emerging as the second-place occupant at a timing of 56.48 seconds.
He appeared in the 100m race but failed in his attempt to prolong his impressive performances in previous events finishing the race behind Michael Bawol at a timing of 55.28 followed by Ben Mark Adam in third place.
The winning of 200m and 400m races has brought the total number of first-place-finish for Kujabi in various track and field athletics championships to five since he started participating in the competition last year.
Kujabi is considered one of the finest athletes The Gambia has produced.
His impressive performances on the domestic front was hugely considered the driving force behind his success with the Gambia Athletics Association (GAA) having represented the association in various international athletics competitions including the World Junior Athletics Championship in Rome, Italy, with some fantastic results to remember.
But he controversially opted to abscond in Canada at the end of the 2010 World Junior Athletics Championship much to the dismay of officials of the GAA, who describe the move as unwarranted.
Read Other Articles In Article (Archive)